When the National Center For Complementary and Integrative Health at the NIH tips its hat toward a medical treatment it gets your attention. Especially when it comes to alternative medicine, where it's more easy to be skeptical. As Chinese medicine practitioners, we know all about temporomandibular joint pain relief from acupuncture. However, we are always happy when the NIH gives their blessing. Here's the information, direct from their website.
Temporomandibular Joint Pain Study At The NIH
Traditional Chinese medicine may provide short-term pain relief for temporomandibular joint pain disorders (TMD), according to a new study. Temporomandibular joint pain, which affects an estimated 10 million Americans, is a group of disorders that cause pain and dysfunction in the jaw joint and the muscles that control jaw movement.
The study also showed that traditional Chinese medicine may help improve quality of life. This short-term comparative effectiveness study, funded by NCCAM, appeared in The Journal of Pain. The researchers also plan to publish 18-month findings.
What The Study Looked Like
The researchers conducted the study in two real-world pain clinics within health plans, in Tucson, Arizona, and Portland, Oregon. Researchers enrolled 168 adults who had been diagnosed with TMD and at least 1 traditional Chinese medicine diagnosis. Initially, all patients attended a 2-hour class on temporomandibular joint pain.
At week 2, the researchers assigned patients with the worst TMD pain (above a predetermined level) either to a traditional Chinese medicine or self-care group. Participants whose temporomandibular joint pain was less severe were assigned to self-care. At week 10, patients in the self-care group whose pain was above a second predetermined level were assigned to receive traditional Chinese medicine or continue with self-care.
The traditional Chinese medicine intervention (consisting of up to 20 visits within 1 year) was tailored to the patient and could include acupuncture, Chinese herbs, massage, and lifestyle counseling. The self-care intervention included education, jaw stretching exercises, training in relaxation and stress management, and cognitive behavioral therapy. Participants in the self-care group also received a self-help manual.
The Study Conculsions
The researchers found that traditional Chinese medicine provided significantly greater short-term pain relief than self-care, as well as greater reduction in interference with social activities. The researchers concluded that their results suggest this kind of stepped-care, community-based approach using traditional Chinese medicine is safe and could offer short-term relief of pain and improved quality of life for patients with temporomandibular joint pain.
The long-term outcomes of this study are forthcoming and will provide a more complete picture of the impact of this treatment strategy. Further, the researchers also noted that their design could be used more widely in studies of chronic pain.
Our Experience Treating TMJ At Raleigh Acupuncture
We regularly treat patients suffering from temporomandibular joint pain. The results bring both short-term and long-term pain relief. For milder cases, the pain is resolved permanently. For cases where surgery is required, we offer short-term pain relief until the patient can undergo surgery. We also help with post-surgery recover.
The treatments are safe, inexpensive and relaxing. All needles are sterile, single-use and hair thin. You will hardly feel them. Anyone suffering from jaw pain should explore acupuncture as a pain reduction tool.
Next Steps
BOOK NOW to schedule an appointment online. Or call us at 919-819-8113 and we will schedule an appointment for you.
WATCH VIDEO ABOUT OUR TMJ TREATMENT.
READ MORE ABOUT THE RALEIGH ACUPUNCTURE TMJ TREATMENT.
Reference
Ritenbaugh C, Hammerschlag R, Dworkin SF, et al. Comparative effectiveness of traditional Chinese medicine and psychosocial care in the treatment of temporomandibular disorders-associated chronic facial pain. Journal of Pain. 2012;13(11):1075–1089.
Summary
Article Name
Temporomandibular Joint Pain Relieved With Acupuncture
Description
Temporomandibular Joint pain (TMJ) relieved with acupuncture. NIH study concluded acupuncture effectively reduces pain. Safe, gentle, long lasting results.
Author
Publisher Name
Raleigh Acupuncture Associates
Publisher Logo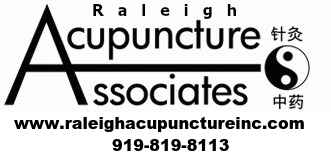 What our Clients are Saying
My jaw was broken 20 years ago and never healed right. I had constant pain all the time. Finally tried acupuncture for a lark. Ended up getting rid of 90% of the pain. Couldn't believe it. I highly recommend Raleigh Acupuncture Associates.
Geoff R
My sister recommended Raleigh Acupuncture for my TMJ, after no luck with other types of treatment. I was surprised and pleased to see that acupuncture helped. My jaw pain is gone after 6 treatments. No pain at all. I recommend this practice to anyone with TMJ.
J.C.
Summary
Article Name
Temporomandibular Joint Pain Relieved With Acupuncture
Description
Temporomandibular Joint pain (TMJ) relieved with acupuncture. NIH study concluded acupuncture effectively reduces pain. Safe, gentle, long lasting results.
Author
Publisher Name
Raleigh Acupuncture Associates
Publisher Logo