Ulcerative colitis (UC) is an inflammatory bowel disease. It causes inflammation, irritation, and ulcers in the lining of the large intestine and colon. There is no Western medicine cure, and people often have symptoms off and on for life. But acupuncture and Chinese medicine can help. Today's blog post describes an ulcerative colitis acupuncture solution that is safe, natural, and highly effective.
Raleigh Acupuncture UC Treatment
We have been helping patients manage their ulcerative colitis for over fifteen years. For some, we help them reduce nausea, bloating, and diarrhea. For others, acupuncture decreases the amount of blood in their stools. Our treatments focus on restoring balance to the digestive system, including returning normal function to the large intestine and colon.
We evaluate each patient to assess his or her particular needs. We then develop treatment plans to address those needs. For example, a recent UC patient came to our clinic complaining of nausea and bloating. After just four treatments, we reduced her nausea by 80% and completely resolved her bloating. We told her to give us a call if her symptoms flared up again in the future. A single treatment or two is all she will probably need to calm things down when future flares arise. This is a powerful ulcerative colitis acupuncture solution.
Chinese Medicine Pattern Diagnosis
Unlike Western medicine, acupuncture and Chinese medicine do not have a "one pill" approach for health conditions like ulcerative colitis. We treat each patient as an individual, to establish balance in their body to restore their health. Five UC patients may receive five different Chinese medicine pattern diagnoses, depending on their particular symptoms.
For example, one patient may present with strong-smelling diarrhea, blood in the stools, urgency, night sweats, thirst, a red tongue, and a rapid, wiry pulse. Her pattern would most likely be Liver Fire in the Lower Jiao.
Appropriate acupuncture points for her treatment would include LV2, ST44, LI11, ST36, and LI4. An excellent Chinese herbal formula for her would be Long Dan Xie Gan Tang. This combination of acupuncture and herbs would quickly return her body to balance and reduce her debilitating symptoms. In other words, the treatment would help her own body heal itself.
Different Patient, Different Diagnosis
Another patient with ulcerative colitis may present completely different. He may have pain in the stomach with a cold sensation, diarrhea with watery stool and undigested food, no strong odor. He may feel cold all the time, have a pale tongue and a weak, slow pulse. His Chinese pattern diagnosis would be Kidney yang deficiency with Cold invading the lower jiao. Helpful acupuncture treatment would include acupoints CV4 and CV6 with moxa, SP3, KD3, BL23, BL20, and CV12. An excellent herbal formula for him would be Shen Ling Bai Zhu Tong.
Likewise, this treatment protocol would quickly restore balance by addressing his specific needs. It is an entirely different treatment because his imbalance is not the same. The disease looks similar from a Western medical perspective, but the treatment is distinct because the patient's needs are not the same. In reality, one pill for every disease does not work. It sounds good on paper, but the human body is much more complicated.
Ulcerative Colitis Acupuncture Solution
While there is no known cure for UC, acupuncture is an important adjunct technique to manage the condition. Your Western doctor may not fully understand the benefits of acupuncture for treating ulcerative colitis. But once you mention acupuncture to them, in our experience, we have found that doctors these days will be open to you giving it a try. They will most likely say something like, "Well, you have nothing to lose."
That's their way of saying that they don't have a complete medical solution for you themselves, so you might as well try something else that they know is safe and might be able to help. It's progress. Ten years ago, they would have told you to avoid any alternative treatment!
Raleigh Acupuncture Approach
We suggest to new patients inquiring about our ulcerative colitis acupuncture solution, "Let us treat you four to six times. You will feel the difference for yourself." Once you experience acupuncture's benefits in managing UC, you will want to add acupuncture as tool in your health management toolbox. Most of our UC patients come in once a month for maintenance after their initial set of "balancing" treatments. They also find treatment extremely useful for resolving flares and for helping them reduce existing medication levels.
Ulcerative colitis can be a frustrating health condition. You deserve every weapon in your arsenal to manage your health and improve your quality of life. If you live in the Raleigh area, come to our clinic for treatment. For those of you reading this blog post from somewhere else in the country, find a board-certified acupuncturists using the "find-a-practitioner" tool on our national certifying board website www.nccaom.org.
Next Steps
BOOK NOW to schedule an appointment online.
MEET THE PRACTITIONERS (VIDEO)
LEARN ABOUT ALL THE CONDITIONS WE TREAT.
The ulcerative colitis acupuncture solution has many similarities to our Crohn's disease treatment, which we also treat at Raleigh Acupuncture. CLICK HERE to learn more about our Crohn's treatment.
Summary
Article Name
Ulcerative Colitis Acupuncture Solution - Raleigh Acupuncture
Description
Ulcerative colitis acupuncture solution - Raleigh Acupuncture. Safe, natural treatment reduces pain, nausea, bloating and bowel dysfunction.
Author
Publisher Name
Raleigh Acupuncture Associates
Publisher Logo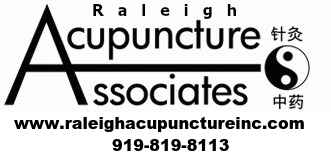 What our Clients are Saying
I was diagnosed with Crohn's disease two years ago. I had fairly severe low abdominal pain and swelling, weight loss and really low energy. My doctor wanted to put me on steroids but I wanted to avoid that for as long as possible. I read that acupuncture could treat Crohn's so I booked an appointment at Raleigh Acupuncture. Sure enough, the treatments eased my pain, resolved the swelling, and increased my energy. It's been almost two years and I have yet to need steroids. Initially I got acupuncture twice a week, but after the first two months I have been on monthly maintenance treatments, and that seems to be holding me. I highly recommend Raleigh Acupuncture for Crohn's treatment. They have made a huge difference in my life.
James K
My IBS triggered diarrhea every day, all day long, but especially in the mornings.  It would be triggered by the foods I ate, stress at work, or nothing at all.  I was getting to the point where I was going to give up my job and try to find a job where I could work out of the house.  As a last resort I went to Raleigh Acupuncture.  I started seeing changes right away, less attacks in the morning, less triggers during the day.  Over the duration of my treatments it seemed like my intestines were getting stronger and less sensitive.  After about a month of treatment I was just having problems in the morning, going about three times.  After about another month I was having normal bowel movements just once in the morning.  As far as I can tell, my IBS is completely healed.
Ian M
I came down with an unbelievable case of diarrhea that lasted more than four weeks.  I was getting severely dehydrated and was exhausted.  My doctor said there was nothing wrong with me, that it was probably due to stress.  The only thing stressing me out was the diarrhea!  I was really starting to get scared, thinking I had contracted some terrible disease.  I went to acupuncture and they immediately said there was a problem with my stomach and intestines, but that it wasn't dangerous and it was treatable.  They treated me with acupuncture and a heat herb that warmed up my stomach.  I felt better immediately, and within a few weeks the diarrhea was completely gone.  I am very grateful to Raleigh Acupuncture for knowing what was wrong with me and treating my condition so quickly.
Lawrence R
Summary
Article Name
Ulcerative Colitis Acupuncture Solution - Raleigh Acupuncture
Description
Ulcerative colitis acupuncture solution - Raleigh Acupuncture. Safe, natural treatment reduces pain, nausea, bloating and bowel dysfunction.
Author
Publisher Name
Raleigh Acupuncture Associates
Publisher Logo