Theories of Pain
For centuries, people have been seeking the origin of pain and ways to alleviate it. Despite excellent progress in understanding pain, many factors remain unclear. Pain is a subjective concept, and is interpreted differently by each patient. Some people have a high pain threshold, which allows them to tolerate pain well. For others, even a small trigger can cause them to suffer.
Due to this significant difference in perception of pain, it is difficult to understand the degree of distress by a patient. The visual analog scale (VAS), created in 1921 by Hayes and Patterson, is a simple tool to assess a patient's perspective of pain and translate a subjective level of pain into an objective measurement.
Pain classifications include:
Nociceptive pain – caused by the excitation of nociceptors by external stimuli.
Inflammatory pain – intervened by inflammatory mediators released by an inflamed organ.
Neuropathic pain – induced by lesions of the central or peripheral nervous system.
Understanding Pain
Merskey and Bogduk say, "Pain is an unpleasant sensory and emotional experience associated with actual or potential tissue damage or described in terms of such damage."
The discovery of nociceptors by Charles Sherrington in 1906 has changed how we think about the central nervous system. This development gave rise to many modern studies about pain management, such as nerve blocking and the analgesic effects of acupuncture.
For example, the Gate Control Theory of Pain, proposed in 1965 by Melzack and Wall, suggested that the brain has a "gate" mechanism either blocking or allowing pain messages to reach the brain. Although their theory later proved flawed, it provided a helpful conceptualization of the experience of pain. One of them resulted in the invention of transcutaneous electric nerve stimulation (TENS) for managing low back pain.
Easing the Pain Experience
In 1973, Pert and Synder discovered the opiate receptor, the cellular binding site for endorphins in the brain. Two years later, a group of British scientists had a breakthrough in the field of molecular receptors with the discovery of enkephalin. This advance led to our current knowledge of endorphins – the body's natural mechanism of painkillers. Their research was a breakthrough in understanding pain.
To ease the pain experienced by patients, we first need to understand pain at the root level, along with the mechanism that triggers the transmission of pain. For example, the nervous system's mechanism of analgesia (pain-relief) is clearly demonstrated from needle stimulation with acupuncture. Research confirms acupuncture's ability to resolve low back pain through evidence-based scientific proof.
Pain Mechanism
The pain mechanism is complex due to the involvement of multiple layers of neural circuits, from the stimulation of receptors to the chemical reaction in the CNS. Pain perception is called nociception, initiated by nociceptors at free nerve endings. The nociceptors, part of the architecture of neural circuits, are spread all over the body, from the superficial layers of skin to the deeper tissues and internal organs.
The nociceptors detect tissue injury by harmful stimuli. First, this data transmits electrical nerve impulses through the nerve fibers to the dorsal root ganglia. Next, the electrical signal connects with the second afferent neuron at the dorsal horn of the grey matter. From here, the signal crosses over to the opposite side of the spinal cord, connects to the ventral white matter, and links to the spinothalamic tract.
The signal then travels up from the spinal cord to the thalamus in the brain, where the pain signal originates. A third synapse occurs in the thalamus, transmitting a nerve impulse via the thalamocortical tract to the cerebral cortex. This process tells us the exact location of the pain. Nociceptors enable humans to recognize pain stimuli and respond accordingly by quickly removing our hands from a fire or sharp object. Understanding pain in this fashion is essential for developing methods of pain management.
Nerve Fibers
There are two types of nerve fibers, afferent and efferent. Afferent means ascending and qualifies sensory fibers sending signals to the brain. At the same time, efferent signifies descending and defines motor fibers, which relay messages away from the CNS. In addition, the afferent nerve fibers convey signals concerning potential damage or injury from outside and inside the body.
The afferent nerve fibers in the human body further divide into four principal primary sensory neurons, differentiated by shape and function into A-alpha (Aα), A-beta (Aβ), A-delta (Aδ), and C fiber. Aα fibers represent motor fibers connected to voluntary muscles and include sensory nerves that transmit position sensation from skeletal muscles. Aβ fibers carry non-noxious stimuli and convey the senses of touch, vibration, and pressure from the skin.
Pain Sensing Nerve Fibers
Two types of nerve fibers transmit pain impulses. First, the Aδ fiber is myelinated, enabling fast impulse transmission, producing sharp and localized pain. Second, unmyelinated C fibers transmit slowly, generating dull or burning pain, which is diffuse and non-localized.
Kagitani et al. demonstrated that acupuncture stimulation enables the production of numerous autonomic functions on both Aδ and C fibers. In addition, Zhao suggested that manual acupuncture and electroacupuncture stimulation activate Aδ and C fibers, producing an analgesic effect. Acupuncture has an important role to play in understanding pain.
Inflammatory Soup
Tissue damage causes the release of various chemical substances into the extracellular space around receptor terminals. These chemical substances comprise bradykinin, histamine, serotonin, prostaglandins, nerve growth factor, substance P, ATP, calcitonin gene-related peptide, protons, and other purines and indoleamine. Altogether, they form an "inflammatory soup" and can interact and activate the nociceptive fibers that cause localized pain and inflammation.
Next Steps
Next week we will examine the analgesic effect of acupuncture on sensory nerve pain receptors.
BOOK NOW to schedule an appointment online.
Watch video about our chronic pain treatment.
Learn about all the conditions we treat.
Focus keyphrase: Understanding Pain
Photo by Artem Podrez: https://www.pexels.com/photo/chemists-standing-and-writing-on-clip-boards-result-of-experiment-8532842/
Summary
Article Name
Understanding Pain - Raleigh Acupuncture Associates
Description
Understanding pain. Today's post examines how sensory nerve receptors detect and transmit pain signals to the central nervous system.
Author
Publisher Name
Raleigh Acupuncture Associates
Publisher Logo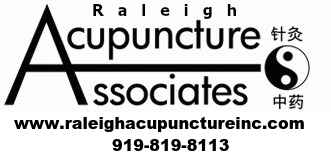 What our Clients are Saying
I'm a golfer and started having trouble with my left shoulder over a year ago. My doctor wanted to do surgery, but I wanted to try other alternatives first. So I tried acupuncture. The folks at Raleigh Acupuncture were very professional, reasonably priced and did excellent work. They resolved my shoulder pain completely. I use them now for other pains in my post-50 body! Thank you Raleigh Acupuncture.
Tony J
I'm a dentist and over the last 20 years the nature of my work and positions required by my work had resulted in chronic neck pain. It affected my sleep, limited my ability to exercise, and was just a real pain in the neck! A friend at church recommended Raleigh Acupuncture and I gave it a try. I have to say that I was a bit skeptical, but gave it a try because I had tried a number other therapies with no success. I'm glad I did. They resolved my neck pain completely!
Brent W
All of my joints were hurting. I've got fibromyalgia and it effects me by making my joints hurt. The pain would move around from place to place, first the hip, the next day the shoulder, then the knee, etc. The practitioner at Raleigh Acupuncture explained that the best way to treat my kind of moving joint pain was to treat me holistically. Instead of treating the hip one day, the shoulder the next, they treated the root of the pain. They said this type of treatment would also improve my mood and my sleep. Right on all counts. I started feeling better after the second treatment. It's like all of the joints just settled down and stopped giving me trouble. I had less flares and the intensity of the pain went way down. My sleep is better, not just because I have less pain. I'm more relaxed and less stressed. I've made this treatment a regular part of my life. I'm very grateful.
Beth C
I suffered from low back pain for years and tried many different remedies. When I came to Raleigh Acupuncture, they really listened to understand my issues. I can honestly say that they cured my chronic back pain. I didn't think it was possible, after all these years. I highly recommend this practice. The doctors take the time and do good work.
Jake P
Summary
Article Name
Understanding Pain - Raleigh Acupuncture Associates
Description
Understanding pain. Today's post examines how sensory nerve receptors detect and transmit pain signals to the central nervous system.
Author
Publisher Name
Raleigh Acupuncture Associates
Publisher Logo