A 33-year-old woman came to our acupuncture clinic with a diagnosis of unexplained infertility. She and her husband had been trying to get pregnant for 2 years with no success. In addition, she had recently undergone three rounds of IUI (Intrauterine Insemination) to no avail. This blog post describes how acupuncture helped her get pregnant in just four months, and why the unexplained infertility acupuncture solution can work for you as well.
Background
Our patient had been on birth control for 14 years to help manage painful periods. When she stopped taking birth control two years ago, her periods again became painful. She had severe cramping one day before, and during her first two days of her period. It lasted for seven days, with three days of heavy flow. Her blood on the heavy days was maroon colored and filled with clots. She needed to take pain medication to get through the early part of her period each month.
Her fertility doctor had diagnosed her with unexplained infertility, meaning that from his perspective, there was no good reason for her to be unable to get pregnant. He recommended undergoing three rounds of IUI, which she did, without success. Her doctor then recommended that she try IVF (In Vitro Fertilization). She and her husband paused at this point, as IVF was very invasive and costly. Research online brought them to our website, which led to their initial visit.
Chinese Medicine Diagnosis for Unexplained Infertility
Unlike her Western medicine fertility doctor, we were able to explain her infertility based on her presenting symptoms. In addition to her history, described above, her tongue had rough edges with purple patches, and her pulse was tight. Combined, this presentation clearly explained why she was not getting pregnant. She had a Chinese medicine diagnosis of Infertility due to Liver Blood Stasis.
Telltail signs of blood stasis include maroon colored blood with clots. A healthy menstrual cycle should have bright red blood with few or no clots. The painful cramps are also a common sign of blood stasis. In addition, bleeding three days is too much loss of blood. A heathy period has one to two heavy days, tapering down for the next three days.
Our patient's pattern imbalance was one of the most common causes of infertility that we see in our clinic. When blood in the uterus is not circulating well, it is difficult for a fertilized egg to take root. It's like trying to cook a healthy meal with unfresh food, or trying to get a good night's sleep with the television blaring. Happily for our patient, blood stasis was one of the easiest Chinese medicine patterns to treat. We therefore started treating her with acupuncture and Chinese herbs to resolve her underlying blood stasis.
Unexplained Infertility Acupuncture Treatment
Her treatment included using acupuncture points to build and invigorate the blood, literally training her body to circulate blood more effectively. Acupuncture points included: SP10, SP6, LV3, LI4, BL17, BL18 and BL23. We gave her Chinese herbal medicine as well, the formulas changing during the course of her cycle. During her period she took Tao Hong Si Wu Tang, while between periods she took Jia Wei Xiao Yao Tang.
[These formulas were appropriate to her, and may not be right for another woman with infertility. Always consult an acupuncturist/herbalist before taking Chinese herbs.]
After four treatments our patient already starting seeing improvements in her menstrual cycle. These changes kept steadily improving over the next few months. After 12 weeks, her cycle was "normal", meaning there were no painful cramps, blood was bright red with no clots, with two heavy days followed by three tapering off.
Acupuncture Resolves Infertility
And sure enough, the following month, she got pregnant – on her own. These results are typical when treating infertility due to Liver blood stasis. It did not matter that our patient had this pattern most of her adult life. Acupuncture and herbs were able to correct the imbalance in short order. The unexplained infertility acupuncture solution is highly effective for most women.
Next Steps
If you are struggling with infertility, check out acupuncture. It may just be the natural solution you need.
BOOK NOW to schedule an appointment online.
WATCH VIDEO OF OUR INFERTILITY TREATMENT.
LEARN ABOUT ALL THE CONDITIONS WE TREAT.
Summary
Article Name
Unexplained Infertility Acupuncture Solution - Raleigh Acupuncture
Description
Unexplained infertility acupuncture solution. 33-year-old woman diagnosed with infertility for two years got pregnant in four months with acupuncture.
Author
Publisher Name
Raleigh Acupuncture Associates
Publisher Logo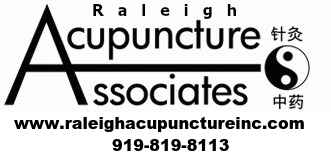 What our Clients are Saying
I was scheduled for IVF and they suggested I get acupuncture beforehand to increase my chances of success.  I went to Raleigh Acupuncture for a month before the procedure.  It was very relaxing and definitely reduced my stress levels.  My uterine lining also increased more than ever before.  The IVF was a success and I'm now pregnant.  It was definitely worth doing the acupuncture.  I did not want to have to repeat IVF for $25K a pop.  And when I got morning sickness, they cured that too!
Maria T
I sought Raleigh Acupuncture's help in 2010 following a miscarriage. Happily, in 2011, I had a very healthy little boy. My son is 11 months old. I tell everyone how much you got me back on track after my miscarriage – it was truly amazing. I had a great pregnancy too.
Jen D
My husband and I had been trying to get pregnant for the past two years.  I had undergone three rounds of Clomid with no success and the doctor was talking about IVF.  We didn't have the money for that, so we tried acupuncture.  They took a lot of time to explain what they were doing with the acupuncture and Chinese herbs.  I learned so much about my cycle and the reasons I was having trouble getting pregnant.  They said it would take 3 to 6 months to get pregnant, and sure enough, after 3 months I was pregnant!  It seems like a miracle to me.  I'm so grateful to Raleigh Acupuncture.  Thank you!!!
Sonya B
Summary
Article Name
Unexplained Infertility Acupuncture Solution - Raleigh Acupuncture
Description
Unexplained infertility acupuncture solution. 33-year-old woman diagnosed with infertility for two years got pregnant in four months with acupuncture.
Author
Publisher Name
Raleigh Acupuncture Associates
Publisher Logo