This uterine lining study investigated whether electroacupuncture (EA) could improve uterine artery blood flow in women undergoing IVF. The women received EA eight times, twice a week for four weeks. In addition, practitioners measured the uterine lining before and after treatment.
In addition, they measured skin temperature on the forehead (STFH) and in the lumbosacral area (STLS) during the first, fifth, and eighth EA treatments. Compared to baseline blood flow levels, uterine blood flow significantly improved following the eighth EA treatment and 10-14 days after the EA period. Furthermore, STFH increased considerably during the EA treatments. These improvements were likely due to a central inhibition of sympathetic activity.
IVF and Uterine Lining
Successful IVF and embryo transfer demand an optimal uterine lining at the time of implantation. Prior research found that a PI >3.0 at the time of embryo transfer could predict 35% of the failures to become pregnant. In addition, previous studies have shown decreased blood pressure after electroacupuncture (EA). The decreased blood pressure was related to reduced sympathetic activity and paralleled increased P-endorphin concentration in the cerebrospinal fluid (CSF). This observation suggests a causal relationship between acupuncture and central sympathetic inhibition. This study aimed to evaluate whether EA could reduce resistance in the uterine arteries.
Investigators conducted the study at the Fertility Centre Scandinavia, Gothenburg, Sweden. All of the women had the PI of their uterine arteries measured by transvaginal ultrasonography and pulsed Doppler curves. In addition, investigators electronically calculated the PI value for each artery. Furthermore, in the routine preparation for embryo transfer treatment, all women were down-regulated with a gonadotrophin-releasing hormone (GnRHa).
Importance of Thick Uterine Lining
Practitioners made three PI measurements on the right and three on the left uterine artery of each patient attending the unit for an IVF/embryo transfer treatment. The ten women in the study were infertile but otherwise healthy. Their mean PI was >3.0 in the uterine arteries before and after down-regulation. They had a mean age of 32.3 years (range 25-40 years).
The women's diagnoses included unexplained infertility, tubal issues, and PCOS. During the study, GnRHa was the only medication the women took, which kept their gonadotrophins and ovarian steroid levels at a constantly low concentration throughout the study period.
Each patient received eight EA treatments twice a week for four weeks. Practitioners measured the mean PI of the uterine arteries directly after the eighth EA treatment and again 10-14 days following the termination of treatments. Of the ten women, the investigators only excluded two. One of them, with tubal factor infertility, was excluded because she started taking medications for her migraine, which could have affected her PI. A second woman with unexplained infertility stopped her GnRHa treatment because she preferred IVF/embryo transfer in a natural cycle.
Acupuncture & Uterine Lining
The practitioners selected acupuncture points in somatic segments according to the nerve innervation of the uterus. They inserted needles to a depth of 10-20 mm. The stimulation sought to activate muscle-innervating nerves. First, they twirled the needles to evoke a "deqi" sensation, described as tension, numbness, tingling, and soreness. Then they attached electrical stimulators to the needles for 30 minutes.
Needle location was the same for all women. The practitioners positioned four of the needles bilaterally on the back level with the lower thoracic and lumbar portions of the erector spinae muscles. Then they stimulated the needles with high-frequency (100 Hz) pulses. The intensity was low, giving non-painful paraesthesia. Next, four additional needles were selected bilaterally in the calf muscles and stimulated with low-frequency (2 Hz) pulses. The intensity was sufficient to cause local muscle contractions.
Investigators measured skin temperature with a digital thermometer between the applied acupuncture needles in the lumbar region (STLS) and on the forehead (STFH). Practitioners measured during the first, fifth, and eighth EA treatments. The first measurements made (before the EA) were considered baseline. After that, further measurements of STLS and STFH were conducted every seventh minute during EA and immediately afterward.
Uterine Lining Study Results
The mean PI was significantly reduced compared to the baseline PI following the eighth EA treatment and 10-14 days afterward when six women had a mean PI <2.6. In addition, the right and left uterine arteries responded similarly to EA. The difference in PI between the two arteries was <0.3 (not significant) throughout the study period. There was no significant difference in the mean PI for patients with different causes of infertility. Compared with the starting point, the mean STFH increased significantly after 21 minutes of EA.
Keys to Healthy Uterine Lining
Previous studies showed that a high PI in the uterine arteries was associated with a decreased pregnancy rate following IVF-embryo transfer. The results support the hypothesis that uterine receptivity is improved when the PI value is between 2.0 and 2.99 on the day of embryo transfer. Unfortunately, treatment options are few when practitioners find a high PI before embryo transfer in a stimulated cycle.
It has been proposed that the embryos should be frozen, thawed, and transferred in an unstimulated cycle. Still, there is little support for the hypothesis that the PI would be lower under these conditions. In experiments on spontaneously hypertensive rats, EA at low frequency (2-3 Hz) induced a long-lasting, significant fall in blood pressure associated with decreased activity in sympathetic fibers.
Electroacupuncture and Uterine Lining
Regarding nerve studies on humans, EA in the upper limbs resulted in an initial increase and then a decrease in the activity of sympathetic activation in the tibial nerve, with a parallel rise in the skin's temperature. In addition, transcutaneous stimulation of acupuncture points in the hand increases skin temperature, relieving limbs suffering from Reynaud's syndrome.
For this study, the PI of the uterine arteries significantly decreased after the eighth EA treatment and remained significantly reduced 10-14 days afterward. These findings suggest that a series of EA treatments increases uterine artery blood flow and improves fertility outcomes during IVF.
Next Steps
Try acupuncture if you are trying to get pregnant, whether naturally or with IVF or IUI, and your uterine lining is too thin. Acupuncture stimulates nerves, which promotes blood circulation to the uterus, promoting a thicker uterine lining.
BOOK NOW to schedule an appointment online.
Reference
Stener-Victorin, E., Waldenström, U., Andersson, S. A., & Wikland, M. (1996). Reduction of blood flow impedance in the uterine arteries of infertile women with electro-acupuncture. Human reproduction (Oxford, England), 11(6), 1314–1317. https://doi.org/10.1093/oxfordjournals.humrep.a019378
Focus Keyphrase: uterine lining
Photo by Anna Shvets: https://www.pexels.com/photo/women-in-white-standing-on-green-grass-field-near-body-of-water-4672442/
Summary
Article Name
Uterine Lining Built Up Naturally With Acupuncture
Description
Uterine lining study concluded that electro-acupuncture improved uterine artery blood flow, improving IVF success rates.
Author
Publisher Name
Raleigh Acupuncture Associates
Publisher Logo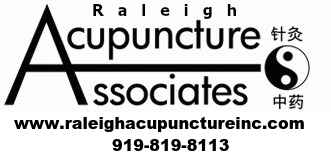 What our Clients are Saying
I was scheduled for IVF and they suggested I get acupuncture beforehand to increase my chances of success.  I went to Raleigh Acupuncture for a month before the procedure.  It was very relaxing and definitely reduced my stress levels.  My uterine lining also increased more than ever before.  The IVF was a success and I'm now pregnant.  It was definitely worth doing the acupuncture.  I did not want to have to repeat IVF for $25K a pop.  And when I got morning sickness, they cured that too!
Maria T
I sought Raleigh Acupuncture's help in 2010 following a miscarriage. Happily, in 2011, I had a very healthy little boy. My son is 11 months old. I tell everyone how much you got me back on track after my miscarriage – it was truly amazing. I had a great pregnancy too.
Jen D
My husband and I had been trying to get pregnant for the past two years.  I had undergone three rounds of Clomid with no success and the doctor was talking about IVF.  We didn't have the money for that, so we tried acupuncture.  They took a lot of time to explain what they were doing with the acupuncture and Chinese herbs.  I learned so much about my cycle and the reasons I was having trouble getting pregnant.  They said it would take 3 to 6 months to get pregnant, and sure enough, after 3 months I was pregnant!  It seems like a miracle to me.  I'm so grateful to Raleigh Acupuncture.  Thank you!!!
Sonya B
Summary
Article Name
Uterine Lining Built Up Naturally With Acupuncture
Description
Uterine lining study concluded that electro-acupuncture improved uterine artery blood flow, improving IVF success rates.
Author
Publisher Name
Raleigh Acupuncture Associates
Publisher Logo