We frequently treat patients for pain all over their body, affecting their shoulders, arms, wrists, hands, neck, shoulders, back, hips, legs, ankles, and feet. Acupuncture provides a unique whole body pain solution by treating pain on two levels. First, we address individual areas of pain, and second, we treat holistically to increase circulation and reduce inflammation.
Treating Pain At The Source
Acupuncture excels at reducing pain at the source. For example, elbow pain from tennis elbow improves quickly with needles inserted at strategic acupoints surrounding the elbow – increasing blood circulation and drawing off inflammation from the affected tendon. Another example, knee pain due to osteoarthritis, receives acupoints locally around the knee, dramatically easing arthritis pain while increasing mobility.
Treating Pain Holistically
At the same time we are treating locally, we also include "system-wide" acupoints to stimulate blood and qi circulation and reduce inflammation. These strong points recruit vital organs in the body (stomach, heart, liver, kidneys) to kick in and heal. Acupuncture strengthens these organs (we call it "tonifying" the organs), prompting them to reach out and aid in healing.
The following describes two patients we've helped with Raleigh Acupuncture's whole body pain solution.
The Overworked Massage Therapist
A young woman who struggles with pain all over her body has been coming to our clinic for many years. She is a successful massage therapist who runs her own clinic. But the work is demanding and takes a toll on her body. Acupuncture helps keep her going, providing a whole-body pain solution that helps her manage the pain.
Her treatment will change depending on where she's feeling the pain that week. Treatments often include points on her neck, back, legs, ankles, arms, and legs. We also incorporate whole-body points to increase circulation and reduce stress. The key to reducing stress is not to "avoid" stressors (that's impossible) but to avoid having the body hold onto the stress. Acupuncture excels at keeping stress out of the body – an effective tool in reducing body pain.
The Patient With Fibromyalgia
A woman in her forties came to our office a few years ago, diagnosed with fibromyalgia. She had pain that moved from place to place in her body, one week in her elbows and wrists, the next week in her lower back and ankles, etc. In addition, she had debilitating flares of fatigue, sending her to bed for days. These symptoms are typical for fibromyalgia.
The acupuncture whole body pain solution for fibromyalgia focuses more on system-wide organ points and less on chasing the pain. Most fibro patients have very weak digestion, so strengthening their stomach function promotes pain relief and better energy. Improving Qi and blood circulation in the body also seems to reduce inflammation and reduce the frequency of fatigue flares.
We explained to our patient that we wanted to treat her with acupuncture once a week for five weeks, after which we would assess her progress and see if the treatments were helping. Sure enough, after these treatments, she was feeling 30 percent better. She continued coming in for treatment every other week for another five sessions. At that point, she was feeling 50 percent better overall – less pain and less fatigue. Moving forward, she came for monthly maintenance – acupuncture was an effective tool helping to manage her chronic condition.
Next Steps For You
If you are experiencing chronic pain all over your body, come in and try the Raleigh Acupuncture whole body pain solution. Treatments are safe and relaxing – many of our patients fall asleep during their sessions.
BOOK NOW to schedule an appointment online.
Watch Video About Our Chronic Pain Treatment.
Learn about all the conditions we treat.
Summary
Article Name
Whole Body Pain Solution - Raleigh Acupuncture Associates
Description
Whole-body pain solution - Raleigh Acupuncture. We treat chronic pain all over the body by addressing both local and systemic conditions.
Author
Publisher Name
Raleigh Acupuncture Associates
Publisher Logo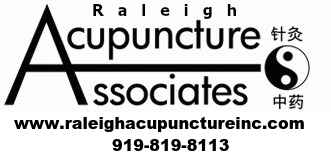 What our Clients are Saying
I am a long term patient of Raleigh Acupuncture. Prior to being under their care, I was disabled with terrible fatigue and pain all over my body. I was unable to drive, could only walk less than a block, and had numerous symptoms that mystified doctors. After countless lab work, x-rays, and MRI's, several doctors including my primary physician told me that there was nothing that could be done. According to them, it was either an illness that was undiagnosable or it was all in my head. When I came to Raleigh Acupuncture, it was a breath of fresh air. They took me very seriously and were not mystified by my condition. They assured me that my condition was treatable and manageable. They treat me with respect, dignity and care; something that I didn't receive at my primary care doctor. Thanks to their treatments I am now living a normal life. They have restored my health and taught me how to manage my condition. My family and friends can't believe how much improvement I have made. My son is grateful to have his mommy back! And I am eternally grateful to Raleigh Acupuncture! They truly have the gift of healing!
Rossina C
I would like to thank Raleigh Acupuncture for the wonderful and very helpful treatments. I had been seeing them for my insomnia, which was making excellent progress at the time and has since been cured. On a previous Monday I was involved in a minor traffic accident. Due to the stress of the accident on Tuesday I awoke in a severe flare-up of my fibromyalgia. The pain was so bad I took pain killers and stayed in bed for the day. The following day I had an appointment with Dr. Mark which I wanted to cancel. My husband suggested I keep the appointment and tell Dr. Mark about the pain. After our discussion, he modified the treatment he had planned for me and treated the pain. I came home, took another pain pill and went back to bed. The following morning I woke pain free and have been since, which is about 2 to 3 months. Thanks again Raleigh Acupuncture!
Ann E
I'm a golfer and started having trouble with my left shoulder over a year ago. My doctor wanted to do surgery, but I wanted to try other alternatives first. So I tried acupuncture. The folks at Raleigh Acupuncture were very professional, reasonably priced and did excellent work. They resolved my shoulder pain completely. I use them now for other pains in my post-50 body! Thank you Raleigh Acupuncture.
Tony J
I'm a dentist and over the last 20 years the nature of my work and positions required by my work had resulted in chronic neck pain. It affected my sleep, limited my ability to exercise, and was just a real pain in the neck! A friend at church recommended Raleigh Acupuncture and I gave it a try. I have to say that I was a bit skeptical, but gave it a try because I had tried a number other therapies with no success. I'm glad I did. They resolved my neck pain completely!
Brent W
I still am forever in your debt for helping me through the Lymes recovery. My body pain and fatigue were overwhelming before getting acupuncture. I still tell everyone today that I am 100% positive that my recovery was a direct result of your expert care. Truly. I have very little residual effects from the disease that I can easily live with. So again,thank you not only for your amazing skills, but for the compassion and kindness that you showed me during that time.
Carol F
All of my joints were hurting. I've got fibromyalgia and it effects me by making my joints hurt. The pain would move around from place to place, first the hip, the next day the shoulder, then the knee, etc. The practitioner at Raleigh Acupuncture explained that the best way to treat my kind of moving joint pain was to treat me holistically. Instead of treating the hip one day, the shoulder the next, they treated the root of the pain. They said this type of treatment would also improve my mood and my sleep. Right on all counts. I started feeling better after the second treatment. It's like all of the joints just settled down and stopped giving me trouble. I had less flares and the intensity of the pain went way down. My sleep is better, not just because I have less pain. I'm more relaxed and less stressed. I've made this treatment a regular part of my life. I'm very grateful.
Beth C
I've been going to Raleigh Acupuncture for 4+ years. I first went to them because I was having problems with my monthly period lasting two weeks or more, hot flashes that were extreme, and all over pain from fibromyalgia, which is a chronic pain condition. I was in a state of depression and despair, unable to work, or do things I love to do, like working in my yard. On a good day, I could perform simple household chores, perhaps a little yoga, and that was all. My first few visits brought relief from hot flashes, terrible neck pain, and wrap-around pain in my ribs that restricted my ability to breathe comfortably. I felt this was a miracle as I had suffered for many years, and had no idea it was so easily remedied. This miraculous ride continued as I took Chinese herbs for aiding my menopausal symptoms, sinus problems, anxiety, and general pain. As time went on I began to depend on Raleigh Acupuncture for psychological strengthening as well. Nowhere else have I found anyone that really listens to what I have to say without thinking I was crazy. Today, as I sit and reflect, I am about to graduate from an intense two year program for Landscape Architecture Technology. I took a huge leap when I signed up for full-time classes when I was 50 years old. I have enjoyed great success, making one B in 64 credit hours, the rest were A's! In February of 2011, I was in a car accident where I was sandwiched between a van and a school bus. I was able to continue school and finish the semester, I believe because of my acupuncture treatments. I contribute most of my academic success, emotional well-being, and diminished pain to Raleigh Acupuncture.
Patricia C
I suffered from low back pain for years and tried many different remedies. When I came to Raleigh Acupuncture, they really listened to understand my issues. I can honestly say that they cured my chronic back pain. I didn't think it was possible, after all these years. I highly recommend this practice. The doctors take the time and do good work.
Jake P
Summary
Article Name
Whole Body Pain Solution - Raleigh Acupuncture Associates
Description
Whole-body pain solution - Raleigh Acupuncture. We treat chronic pain all over the body by addressing both local and systemic conditions.
Author
Publisher Name
Raleigh Acupuncture Associates
Publisher Logo