People often ask us why acupuncture reduces stress so powerfully. They come in for treatment feeling upset, overworked, preoccupied, or worried, and an hour later are filled with a blissful sensation of peace and calmness. Today's blog post reveals the answer to this question as we will explore the nature of Qi and the nature of acupuncture.
Understanding Qi
Chinese medicine is rooted in the concept of Qi, a form of energy that circulates throughout the body. Qi differentiates something living from something not living, a plant versus a rock, a person versus a mannequin. The concept of Qi evolved thousands of years ago in China to help explain the forces of life, and it is still beneficial today as we try to understand the complex mechanisms of health and wellbeing.
What Exactly Does Qi Do?
To understand Qi better, let's review some of the things Qi is responsible for accomplishing in the human body. We all know the importance of blood – it transports oxygen through the body, provides nourishment for our organs, and removes waste from the cells. Qi is the actual source of blood – it helps create blood and moves it throughout the body. Without Qi, there can be no blood.
To understand why acupuncture reduces stress, we must explore the nature of Qi's circulatory effect. Qi circulates throughout the body just like blood. When Qi circulation is strong, our emotions are calm, and we have a sense of wellbeing. However, external stressors cause the Qi to stagnate – what Chinese medicine practitioners call Liver Qi Stagnation. It's the liver's job to keep the Qi circulating, and stress, trauma, and trouble (think fight or flight) are some of the numerous influences that disturb this circulation.
Stress and Qi
When a person feels stressed out, something in the outside world affects their internal Qi balance, producing a self-sustaining environment of disharmony, which is a breeding ground for disease. When Qi is unable to circulate through the channels, the body feels a variety of dysfunction, from pain to stress, at three different levels – the organ level (disease), muscle or tendon level (pain), or emotional level (stress, depression, anxiety).
Acupuncture Circulates Qi
Why acupuncture reduces stress is most easily explained by the simple fact that acupuncture prompts the body to move stuck Qi. Imagine a highway backed up in traffic due to a broken-down car. Acupuncture is the tow truck that hauls the disabled vehicle off the road, allowing traffic to flow smoothly again.
When a patient comes to our clinic complaining of stress, anxiety, depression, or overwhelm, we feel their pulse, look at their tongue to confirm the organs affected, and select specific acupuncture points to get their Qi moving. The classic Four Gates treatment (acupoints Li4 and LV3) is appropriate for people presenting with Liver Qi Stagnation. For others, we may need to nourish their Kidney Yin to get their Qi circulating properly (KD6, LU7, SP6). All benefit from the calming effect of Si shen cong and GV20, a combination of five points at the top of the head.
Acupuncture Treats Disease
Acupuncture, simply put, is a therapeutic tool to circulate the Qi, which in turn reduces stress. But this ancient medicine goes well beyond reducing stress. A proper understanding of the imbalances affecting a patient is required to heal complex health conditions, ranging from inflammation in the bladder (causing frequent urination) to migraine headaches (causing pain in the temples and eyes). Acupuncture also can resolve insomnia, reduce IBS stomach and bowel irregularities, and improve fertility.
Epidemic of Autoimmune Disease
Today we are preoccupied with the Coronavirus. But for the past decade, we have been struggling with another epidemic, that of autoimmune disease. This disease has over two hundred manifestations, including Chronic Lyme Disease, Crohn's Disease, Irritable Bowel Syndrome, Fibromyalgia, and Chronic Fatigue Syndrome. Autoimmune diseases develop when our body's immune system overacts on itself, triggering an improper inflammatory response. Unfortunately, there is no cure for these conditions affecting millions of Americans, but acupuncture can help.
Acupuncture Treats Crohn's Disease
The mechanism behind why acupuncture reduces stress can be applied to reduce the inflammatory response of autoimmune diseases – enhanced Qi circulation. I'll give you an example of how this works. I have a patient struggling with Crohn's Disease, which causes an improper inflammatory response in his large intestines and colon, resulting in pain and urgent bowel movements with blood in the stool. He was trying to manage the bleeding and pain with Prednisone, a steroid medication that helped reduce inflammation. But its effect was limited, and he had to use more and more of the steroid each month.
Prednisone is a potent medication, one that patients are not encouraged to take long-term or in large amounts. However, he found he could reduce his Prednisone dosage when he started acupuncture treatment because acupuncture acted as a natural inflammation inhibitor. Acupuncture could not cure his Crohn's, but it improved his condition by reducing both inflammation and the amount of steroid medication he needed.
Acupuncture Treats Chronic Lyme Disease
Another patient at Raleigh Acupuncture has Chronic Lyme Disease and Chronic Fatigue Syndrome. She also benefits from acupuncture's ability to circulate Qi, which heals and strengthens her body. With regular acupuncture, she has more energy and less pain, primarily due to the proper application of acupoints to address her specific internal imbalances. In her case, these imbalances involve Spleen Qi deficiency, a weakness in the digestive system. Again, acupuncture will not cure her autoimmune diseases, but it reduces adverse symptoms and improves her quality of life.
Why Acupuncture Reduces Stress
There is another epidemic in America, and its name is chronic stress. The triggers are all around us, from viral pandemics to job uncertainly, financial struggles to drug addiction, relationship problems to health issues. Our fast-paced lives are too frantic, stressful, and uncertain.
Living the way we do in the Twenty-First century takes a considerable toll on our Qi, causing it to stagnate, resulting in disharmony and disease. I would not be surprised if the rise of autoimmune diseases has something to do with our increased stress levels.
Why acupuncture reduces stress is the exact reason why it heals our bodies – by improving Qi circulation and restoring the delicate balance required for healthy living. Life out of balance leads to disease and death while living in harmony brings health and happiness. Acupuncture can play a role in this quest for health and happiness.
Next Steps
If you are curious to experience why acupuncture reduces stress, come in for a treatment. We'll conduct an intake exam, feel your pulse, and examine your tongue, allowing us to create a Chinese medicine pattern diagnosis for your situation.
For example, if you have migraines, they may be caused by Liver Qi Stagnation or Kidney Yin Deficiency – we need to know which to give you the most effective treatment and get the best results. Alternatively, if you have IBS, it may be due to Fire in the Large Intestine or Cold due to Spleen Yang Deficiency. Again, we need to know the root cause of your pattern imbalance to give you the best treatment. A skilled Chinese medicine practitioner has the proper training and experience to diagnose.
Make sure to visit a seasoned acupuncturist, someone with at least five years of clinical experience. Over the past 16 years, the practitioners at Raleigh Acupuncture have treated thousands of patients presenting with hundreds of medical conditions. Acupuncture training is rigorous as well. Acupuncturists must complete a 4-year, 3500-hour accredited graduate program in acupuncture and Chinese medicine to become nationally board certified.
BOOK NOW to schedule an appointment online.
Meet Our Practitioners (VIDEO).
Learn about all the conditions we treat with acupuncture.
Summary
Article Name
Why Acupuncture Reduces Stress - Raleigh Acupuncture
Description
Why acupuncture reduces stress is simple - acupuncture circulates the Qi and blood. Qi is the source of life and root of good health.
Author
Publisher Name
Raleigh Acupuncture Associates
Publisher Logo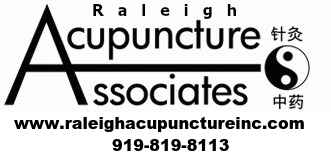 What our Clients are Saying
I was feeling depressed and stressed because I didn't like my job and didn't know what to do with my life.  I started taking Lexipro but it really affected my libido so I stopped taking it.  I tried acupuncture because my husband said it helped him when he was depressed years earlier (before he met me!)  I went to Raleigh Acupuncture and started treatments.  They were really knowledgeable about Chinese medicine and explained how the body gets stuck in depression, and how the acupuncture gets the body unstuck.  They really listened to me and helped me figure stuff out.  I started feeling less depressed.  Then I actually started getting more clear about what I wanted to do with my life career-wise.  I decided to go back to school and now I'm almost done with my degree.  I haven't felt depressed at all since I was treated and I'm really excited about my life.  I'm very grateful to them for being such great healers and such a great support to me when I really needed it.
Tracy B
Thank you for your gentle healing spirit. May God bless you as you help others in the healing methods of acupuncture.. My sessions for stress relief were very helpful. In gratitude.
Susie W
I just started acupuncture and I can really see the benefits. I've done massages and all the Western style treatments but this is amazing! It relaxes me in ways I didn't know could happen and I feel immediate results. I would recommend acupuncture as a treatment. The doctor was great in my initial meeting more thorough than my regular doctor. Highly recommend this!
Lynn S
I still am forever in your debt for helping me through the Lymes recovery. My body pain and fatigue were overwhelming before getting acupuncture. I still tell everyone today that I am 100% positive that my recovery was a direct result of your expert care. Truly. I have very little residual effects from the disease that I can easily live with. So again,thank you not only for your amazing skills, but for the compassion and kindness that you showed me during that time.
Carol F
Summary
Article Name
Why Acupuncture Reduces Stress - Raleigh Acupuncture
Description
Why acupuncture reduces stress is simple - acupuncture circulates the Qi and blood. Qi is the source of life and root of good health.
Author
Publisher Name
Raleigh Acupuncture Associates
Publisher Logo