Chinese medicine offers an acupuncture depression treatment that is safe, natural, and beneficial to many people. The therapy is rooted in an understanding that depression is a physical condition, not an emotional illness. However, the physical imbalance causing depression generates feelings of stuckness, despair, negative thinking, and self-judgment.
Root Causes of Depression
Just as blood circulates through the body, energy called Qi also flows in channels through our arms, legs, torso, and head. Qi is the life force distinguishing animate from inanimate, alive from dead, the energy that nourishes all aspects of a living organism. Chinese medicine defines health as the free flow of Qi in the body, nourishing our organs, tendons, ligaments, sinews, and bones. Disease disrupts Qi circulation, causing imbalance, stagnation, and sickness.
One of the manifestations of Qi stagnation is the sensation of physical pain. For example, Qi stagnation in the lower back causes low back pain, while Qi stagnation in the neck manifests as neck pain or tension headaches. Another manifestation of Qi stagnation is stuckness, lack of motivation, negative thinking, and depression. This "emotional pain," like its cousin "physical pain," is debilitating and disruptive to everyday life.
Acupuncture specializes in resolving Qi stagnation, whether it be to treat physical pain or emotional depression. For example, the acupuncture depression treatment utilizes specific acupuncture points to reinvigorate the circulation of Qi, directly leading to easing feelings of emotional stuckness, self-judgment, and despair.
The Case of the Depressed School Teacher
Last year a woman came to our clinic complaining of recent feelings of depression. She had lost all motivation, was plagued with feelings of self-judgment, and could not see a way forward in her life. She was a kindergarten teacher, recently told she would have to teach her class of 25 5-year-old students remotely via computer.
So far, teaching has been tremendously stressful – it was nearly impossible to teach young children how to read or do math remotely, given short attention spans, challenges with technology, and a host of other problems. As her stress levels increased, feelings of depression and despair arose within her, until now, she was finding it hard to get out of bed in the morning.
Acupuncture Depression Treatment
Our patient's tongue had rough edges, and her pulse was thin and wiry – all signs that stress was causing her Liver Qi to stagnate. Our Chinese medicine diagnosis for her was depression due to Liver Qi Stagnation. Knowing the particular organs involved is essential to creating the proper treatment plan. Our patient received the following acupoints at her first treatment: LV3, LV8, LI4, LI11, CV12, Si shen cong, GV20, Yintang, and Ear points Shen Men and Point Zero.
After her session, she felt relaxed, as if she had taken a deep nap. The following week, when she returned for her second appointment, she said something had shifted in her mind the next day. She wasn't "happy," but she was not "sad" either. Over the week, she had a little more energy and felt less "stuck." She continued to improve with each treatment until, after her sixth session, she announced she no longer felt depressed. Her job situation was the same, but it was not bothering her nearly as much, and she had the strength to manage and persevere. The acupuncture depression treatment worked!
It's All About The Qi
Treating depression is never the same from one patient to another. Each comes with a unique set of issues, and we create treatments to restore balance. Some patients with severe depression do not respond to acupuncture alone and require medications and therapy. Talk therapy is always an excellent addition to acupuncture when major depression is involved.
Our patients appreciate the Chinese medicine way of looking at depression – as a physical condition that manifests emotionally. This view differs from Western medicine's approach, which sees depression as an "emotional problem." Health issues are not easily compartmentalized – the body is too complex. Most health issues involve the entire mind, body, and spirit – and the acupuncture depression treatment embraces healing with this understanding. That's why we have such a high success rate helping our patients feel better.
Next Steps
BOOK NOW to schedule an appointment online.
Watch Video About Our Depression Treatment.
Learn about all the conditions we treat.
Acupuncture Treats Depression
Research studies conclude that the acupuncture depression treatment is safe and effective. Read Study Here.
Summary
Article Name
Acupuncture Depression Treatment - Raleigh Acupuncture
Description
Acupuncture depression treatment - Raleigh Acupuncture. This ancient medicine treats depression at the physical level, easing emotional pain.
Author
Publisher Name
Raleigh Acupuncture Associates
Publisher Logo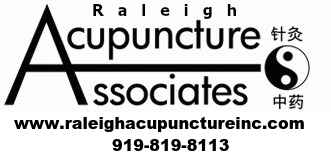 What our Clients are Saying
I was feeling depressed and stressed because I didn't like my job and didn't know what to do with my life.  I started taking Lexipro but it really affected my libido so I stopped taking it.  I tried acupuncture because my husband said it helped him when he was depressed years earlier (before he met me!)  I went to Raleigh Acupuncture and started treatments.  They were really knowledgeable about Chinese medicine and explained how the body gets stuck in depression, and how the acupuncture gets the body unstuck.  They really listened to me and helped me figure stuff out.  I started feeling less depressed.  Then I actually started getting more clear about what I wanted to do with my life career-wise.  I decided to go back to school and now I'm almost done with my degree.  I haven't felt depressed at all since I was treated and I'm really excited about my life.  I'm very grateful to them for being such great healers and such a great support to me when I really needed it.
Tracy B
I had very severe depression after my son was born.  The doctors put me on medication, which helped, but I still had no motivation and felt very sad.  I tried acupuncture and it really improved my mood.  I would say that within four weeks of starting treatment I was no longer depressed.  My motivation returned, I was able to get out of bed in the morning ready to go, and I started enjoying my son for the first time.  I think the combination of medications and acupuncture worked great for me.  I appreciate the caring and skill at Raleigh Acupuncture and recommend them highly for treating depression.
Ari S
Summary
Article Name
Acupuncture Depression Treatment - Raleigh Acupuncture
Description
Acupuncture depression treatment - Raleigh Acupuncture. This ancient medicine treats depression at the physical level, easing emotional pain.
Author
Publisher Name
Raleigh Acupuncture Associates
Publisher Logo