Many people struggle with high blood pressure. For example, you may have borderline hypertension where your doctor is warning that blood pressure medications will soon be necessary. Others may already be on hypertension medication but still don't have reasonable control over their blood pressure. Today's blog post discusses several ways that acupuncture can lower blood pressure.
Acupuncture Regulates Nitric Oxide Levels
Acupuncture lowers blood pressure by exerting a homeostatic regulatory effect on plasma nitric oxide levels. Patients with essential hypertension (high blood pressure that does not have a known secondary cause) typically have reduced nitric oxide bioactivity.
Current evidence suggests that nitric oxide plays a significant role in regulating blood pressure and that impaired nitric oxide bioactivity is an essential component of hypertension. Thus, acupuncture's ability to restore normal nitric oxide levels is a substantial breakthrough in treating high blood pressure.
Acupuncture Reduces Arterial Stiffness
New research identifies acupuncture as improving resting aortic vascular function in hypertensive patients by improving pulse wave reflection (Alx) and reducing arterial stiffness. This impact is significant because a 10 percent increase in Alx increases the risk of a cardiovascular event by 31.8 percent. Therefore, acupuncture's ability to downgrade Alx significantly reduces cardiovascular risk.
Hypertension and Stress
There is a direct correlation between stress and high blood pressure. And since acupuncture is one of the most effective treatments for stress reduction, it is no surprise that acupuncture reduces hypertension. In addition, there are specific acupuncture points on the body that directly impact blood pressure, most notably LV3 on the foot, PC6 on the wrist, and the ear point Shen Men.
Stress in the body will cause blood pressure to rise. While most of us are familiar with the "feeling" of being stressed out, some people never feel the emotion of stress – they accumulate stress in their bodies. For example, I've had patients with physical symptoms of stress – painful neck and shoulders, tight jaw, difficulty sleeping – without ever "feeling" stressed.
Qi Circulation And Health
From a Chinese medicine perspective, the external stressors are lodging inside the body and mind in vulnerable places (shoulders, jaw, sleep) without the person being aware. This same physical stress is what taxes the heart, leading to elevated blood pressure.
Acupuncture resolves both physical and emotional stress by circulating energy (Qi) in the body. Similar to blood circulation, Qi must flow unimpeded for good health. When a person's Qi is flowing smoothly, external stressors cannot lodge in the body – there is nowhere to "grab" hold. It's like when you're in a good mood and insults don't bother you. But if you're depressed, insults stab to the heart.
Acupuncture Lowers Blood Pressure
When you come for acupuncture, we first assess your blood pressure situation. How high is your blood pressure? Are you currently taking medications? If so, are the medications managing your blood pressure to your satisfaction? If not, does your doctor want you to start? We then assess your health, asking questions about sleep, digestion, bowel function, emotions, body temperature, and pain. Additionally, we feel your pulse to gain insight into your organ function and examine your tongue to learn about your stomach health.
Then it's time to create a treatment plan to address your blood pressure needs. Your treatment will include specific acupuncture points to address the root issue behind your elevated blood pressure. You will receive complete treatment on your first visit.
Next Steps
BOOK NOW to schedule an appointment online.
Watch Video About Our Hypertension Treatment.
Learn about all the conditions we treat.
HYPERTENSION ACUPUNCTURE CASE STUDY
HYPERTENSION ACUPUNCTURE RESEARCH STUDY
Summary
Article Name
Acupuncture Lowers Blood Pressure - Raleigh Acupuncture
Description
Acupuncture lowers blood pressure - Raleigh Acupuncture. Natural treatment for hypertension safely reduces blood pressure.
Author
Publisher Name
Raleigh Acupuncture Associates
Publisher Logo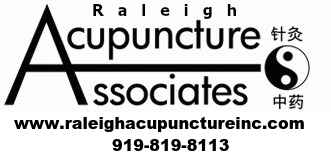 What our Clients are Saying
My doctor was trying to get me to start hypertension medication because I was borderline for over a year. I didn't want to because I knew I'd be on them forever. My wife did research and found Raleigh Acupuncture. They treated me and were able to lower my blood pressure to 135/85. My doctor says that if I maintain that level I don't need to start the meds. I recommend Raleigh Acupuncture. They are professional, kind and know their stuff.
Juan L
I was taking blood pressure medication but was unable to stabilize my blood pressure. Acupuncture reduced my stress and brought my blood pressure under control. Thank you Raleigh Acupuncture!!!
Camilla S
Summary
Article Name
Acupuncture Lowers Blood Pressure - Raleigh Acupuncture
Description
Acupuncture lowers blood pressure - Raleigh Acupuncture. Natural treatment for hypertension safely reduces blood pressure.
Author
Publisher Name
Raleigh Acupuncture Associates
Publisher Logo