A 2011 arthritis research study funded by the National Institutes of Health (NIH) found that electroacupuncture "inhibits osteoarthritis-induced pain by enhancing serotonin receptor activity." Activation of serotonin receptors generates substantial anti-inflammatory effects, reducing pain.
Investigators conducted the research jointly at the University of Maryland in Baltimore, MD, and Shanxi Medical University in Shanxi, China. They concluded that electroacupuncture reduced osteoarthritis pain by activating serotonin receptors. These receptors "play an important role in pain modulation at the spinal level." Furthermore, the investigators discovered that electroacupuncture activates serotonergic neurons, which interact with the spinal cord.
Arthritis Research Study Details
This arthritis research applied electroacupuncture to acupoints GB30 (Huantiao) and St36 (Zusanli) in rats with osteoarthritis. You may be wondering, rats with osteoarthritis? Acupuncture research involving brain response often uses rats – their metabolism is similar to humans, and such research enables investigators to explore physiological changes in the brain without risk to humans. Thus, you will often see research conducted on rats in preliminary studies, followed by human investigations afterward.
Investigators inserted thirty-two gauge acupuncture needles into the two acupuncture points on each leg with a 10Hz pulse for 30 minutes for each acupuncture session. This is the same gauge needle used on people – is it relatively small but large enough to activate the Qi, the healing energy responsible for acupuncture's therapeutic benefits. GB30 is located near the hip, while ST36 is on the lower leg just below the knee.
The collaborators then collected results from the test group and compared them to a sham control group. In acupuncture research, sham means fake, where non-acupuncture points are intentionally used instead of actual points.
Promising Arthritis Acupuncture Results
Investigators found that electroacupuncture in the test group activated serotonin receptors, improved weight-bearing, reduced pain, and improved joint function. In addition, they noted that electroacupuncture activated serotonin neuron fibers, which descended to the spinal cord to modulate pain. Furthermore, they determined that "Electroacupuncture activates different areas in the brain that, in turn, modulate various functions."
The researchers concluded that electroacupuncture induced the release of spinal serotonin and stimulated serotonin receptors at the spinal cord, which, in turn, inhibited osteoarthritis pain. Interestingly, these positive effects were absent from the sham control group, which did not receive true acupuncture. Thus, location does matter, and acupuncture points have a real, measurable impact on brain and body function.
Raleigh Acupuncture Arthritis Treatment
Our experience treating arthritis patients at Raleigh Acupuncture supports these findings. Patients have a favorable response, with reduced arthritis pain, no matter the location of arthritis. We use a combination of acupuncture points, some at the site of the pain, and others at organ points, like acupoint ST36 used in this study. Such points have a powerful impact on the body, brain, and spinal cord to reduce pain caused by arthritis.
Next Steps
BOOK NOW to schedule an appointment online.
Watch Video about our arthritis treatment.
Learn about all the conditions we treat.
Reference
Serotonin Receptor 2A/C Is Involved in Electroacupuncture Inhibition of Pain in an Osteoarthritis Rat Model. Aihui Li, Yu Zhang, Lixing Lao, Jiajia Xin, Ke Ren, Brian M. Berman, and Rui-Xin Zhang. Hindawi Publishing Corporation. Evidence-Based Complementary and Alternative Medicine Volume 2011, Article ID 619650, 6 pages.
Summary
Article Name
Arthritis Research - Raleigh Acupuncture Associates
Description
Arthritis research - Raleigh Acupuncture. 2011 study showed acupuncture triggers serotonin release in spinal cord which reduces pain.
Author
Publisher Name
Raleigh Acupuncture Associates
Publisher Logo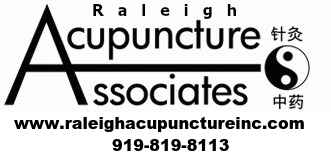 What our Clients are Saying
My knees were so bad with arthritis that I couldn't play golf. My wife did research on the internet and said acupuncture might help. I went in not expecting much. He told me it would take three to six treatments to see if it would work. My case was tougher because I'm overweight. Sure enough, after five treatments the pain started easing. I needed twelve treatments total, but my knees improved so much I'm playing golf again. I go in for what he calls tune-ups every month, but I don't mind. The acupuncture keeps my knees not hurting. I've recommended it to my golf buddies and they've had success as well.
Jack P
I had been getting botox injections for my face over the past five years, and it worked well.  But a friend said that acupuncture could get more lasting results in a more natural way.  I inquired at Raleigh Acupuncture and was surprised at how affordable it was.  They explained that as an added bonus, I would receive acupuncture to help other issues at the same time that they treated my face.  So I took the opportunity to deal with some arthritis in my hands and a bad knee.  The facial rejuvenation was amazing.  It happens over the course of 12 weeks and I literally saw wrinkles disappear!  After each treatment I felt so relaxed.  I'm hooked on acupuncture now, both for my face and the rest of me.  The staff at Raleigh Acupuncture are very professional, friendly and skilled.  I felt safe and comfortable during each visit.
Patricia J
All of my joints were hurting. I've got fibromyalgia and it effects me by making my joints hurt. The pain would move around from place to place, first the hip, the next day the shoulder, then the knee, etc. The practitioner at Raleigh Acupuncture explained that the best way to treat my kind of moving joint pain was to treat me holistically. Instead of treating the hip one day, the shoulder the next, they treated the root of the pain. They said this type of treatment would also improve my mood and my sleep. Right on all counts. I started feeling better after the second treatment. It's like all of the joints just settled down and stopped giving me trouble. I had less flares and the intensity of the pain went way down. My sleep is better, not just because I have less pain. I'm more relaxed and less stressed. I've made this treatment a regular part of my life. I'm very grateful.
Beth C
I had terrible pain in my hands from arthritis, especially my thumbs. I could not even open a jar anymore – there was no strength. My neighbor was seeing an acupuncturist at Raleigh Acupuncture, so I made an appointment. They were so sweet. I was apprehensive about the needles, but they told me they would use extra small ones, which I hate to admit, but I couldn't even see without my glasses. They put needles in my hands, arms and in different places on my legs as well. I believe it made a substantial difference. My hands stopped hurting all the time and my grip strength increased. My thumbs still give me some trouble, but not nearly like before. I'd say I am 80% improved with my arthritis. Now I have all of my friends going to them!
Joan M
Summary
Article Name
Arthritis Research - Raleigh Acupuncture Associates
Description
Arthritis research - Raleigh Acupuncture. 2011 study showed acupuncture triggers serotonin release in spinal cord which reduces pain.
Author
Publisher Name
Raleigh Acupuncture Associates
Publisher Logo