A 58 year old woman came to our clinic suffering from severe lower leg pain. She had broken two bones in her leg (tibia and fibula) 18 months earlier. While the bones had healed, the pain remained. It was a constant sharp, stabbing pain travelling down the lower leg, keeping her up at night, and taking a host of pain medications. This chronic pain acupuncture case study explores how we resolved her pain in just four treatments.
Chronic Pain Explained
The National Institutes of Health Medline Plus defines chronic pain as, "any pain lasting more than 12 weeks. Whereas acute pain is a normal sensation that alerts us to possible injury, chronic pain is very different. Chronic pain persists—often for months or even longer."
It goes on to explain that chronic pain can be triggered by an initial injury, like back sprain, or from an ongoing cause, such as illness. Often there is no clear cause. Chronic pain is often accompanied with fatigue, insomnia, poor appetite and depression. Pain often reduces mobility, leading to stiffness, reduced flexibility, strength and stamina. Inability to carry out normal activities can lead to feelings of despair.
Pain medications had been Western medicine's "go to" solution for chronic pain, but the opioid epidemic has made it clear this path is not correct. And while physical therapy often works well to reduce chronic pain, it often falls short. Patients need more options for addressing chronic pain, and acupuncture is one such option.
Chronic Pain Acupuncture Case Study
Our leg pain patient had tried "every solution under the sun" over the past 18 months to reduce her pain, without success. Her leg throbbed from the moment she got up until bedtime, often keeping her up during the night as well.
Her acupuncture treatment focused on invigorating her blood circulation, and also what we call Qi circulation. Qi is energy in the body. Traumatic injury causes both Qi and blood to stagnate (not move). This stuck energy causes pain. By getting Qi and blood to circulate properly again, pain can be resolved.
And that is exactly what happened in this case. Her first treatment involved using sterile, single-use, hair thin needles in the lower leg with electro-acupuncture. This gentle technique improves circulation in traumatized areas of the body. After just one treatment, her pain was 80% resolved.
Three more treatments effectively resolved her leg pain. Six months later the pain had not returned. Her leg pain was gone for good. Years of therapy and pain medications could not fix the pain, but four acupuncture treatments did the job. And with no side effects.
Not all chronic pain cases resolve this easily as this chronic pain acupuncture case study. But many do. And more complex cases still improve, albeit as a slightly slower pace. For example, chronic migraines for 20 years may take 12 treatments to resolve. Chronic neck pain for 15 years may take 10 treatments. All in all, it's a small price to pay for relief of pain.
Next Steps
BOOK NOW to schedule an appointment online.
WATCH VIDEO ABOUT OUR LEG PAIN TREATMENT.
LEARN ABOUT OTHER PAIN CONDITIONS WE TREAT.
If you have questions about this chronic pain acupuncture case study, feel free to shoot us an email or give us a call.
Summary
Article Name
Chronic Pain Acupuncture Case Study - Raleigh Acupuncture
Description
Chronic pain acupuncture case study - Raleigh Acupuncture. 58 year old woman had severe leg pain following fracture. Acupuncture resolved her pain.
Author
Publisher Name
Raleigh Acupuncture Associates
Publisher Logo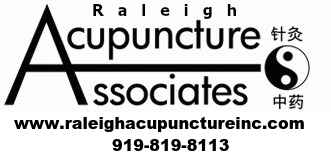 What our Clients are Saying
I'm a golfer and started having trouble with my left shoulder over a year ago. My doctor wanted to do surgery, but I wanted to try other alternatives first. So I tried acupuncture. The folks at Raleigh Acupuncture were very professional, reasonably priced and did excellent work. They resolved my shoulder pain completely. I use them now for other pains in my post-50 body! Thank you Raleigh Acupuncture.
Tony J
I'm a semi-professional weight lifter. I never had a problem until my hip went out doing squats. The pain was tremendous, like a sharp nerve pain down the back of my leg into the calf. It had sidelined me for two months while I tried unsuccessfully to work out the pain. Then a buddy suggested acupuncture. He had a similar hip pain and got relief at Raleigh Acupuncture. I went there and got treated. They told me to stop stretching until the injury was healed. I followed their instructions and got half a dozen treatments. The pain started easing after the first few treatments. I continued for another 6 treatments and was totally cured. I was able to get back to lifting with no residual effects of the injury. I've recommended this practice to a number of friends since that time and they all have had good experiences.
T.J.
I'm a dentist and over the last 20 years the nature of my work and positions required by my work had resulted in chronic neck pain. It affected my sleep, limited my ability to exercise, and was just a real pain in the neck! A friend at church recommended Raleigh Acupuncture and I gave it a try. I have to say that I was a bit skeptical, but gave it a try because I had tried a number other therapies with no success. I'm glad I did. They resolved my neck pain completely!
Brent W
I have neuropathy that is a burning, tingling pain down my legs and into my feet. The doctor said there was nothing I could do besides pain medicine, since I am diabetic. The meds didn't help much and made me feel groggy all the time. I tried acupuncture, after seeing a segment on Dr. Oz. I found Raleigh Acupuncture online and liked their website. They had alot of useful information. The treatments were interesting. They used electric acupuncture on my legs and feet that felt like a tingling massage. They said it would take a few treatments to start kicking in, and they were right. The burning pain slowly started to recede, and the tingling went away. I was truly amazed to feel such a difference in my legs and feet. I know so many people with neuropathy, and they are afraid to try acupuncture. I think they are crazy not to try it. What a difference not to be in constant pain anymore. I don't need medication for my legs.
Harriet C
My doctor told me I had sciatica, but the only place I felt pain was on the side of my calf. It was terrible nerve pain that screamed all day and all night. I couldn't exercise and it affected my sleep. I had to take pain killers every night just to fall asleep. I tried massage and physical therapy, but it didn't help. So I tried acupuncture. They agreed with my doctor that it was sciatica. They treated my hip as well as my leg. And sure enough, the pain started easing after just one treatment. After 5 treatments it was gone. I don't understand how treating the hip helped my leg pain, but it did. Thank you Raleigh Acupuncture!
Bonnie V
All of my joints were hurting. I've got fibromyalgia and it effects me by making my joints hurt. The pain would move around from place to place, first the hip, the next day the shoulder, then the knee, etc. The practitioner at Raleigh Acupuncture explained that the best way to treat my kind of moving joint pain was to treat me holistically. Instead of treating the hip one day, the shoulder the next, they treated the root of the pain. They said this type of treatment would also improve my mood and my sleep. Right on all counts. I started feeling better after the second treatment. It's like all of the joints just settled down and stopped giving me trouble. I had less flares and the intensity of the pain went way down. My sleep is better, not just because I have less pain. I'm more relaxed and less stressed. I've made this treatment a regular part of my life. I'm very grateful.
Beth C
I suffered from low back pain for years and tried many different remedies. When I came to Raleigh Acupuncture, they really listened to understand my issues. I can honestly say that they cured my chronic back pain. I didn't think it was possible, after all these years. I highly recommend this practice. The doctors take the time and do good work.
Jake P
Summary
Article Name
Chronic Pain Acupuncture Case Study - Raleigh Acupuncture
Description
Chronic pain acupuncture case study - Raleigh Acupuncture. 58 year old woman had severe leg pain following fracture. Acupuncture resolved her pain.
Author
Publisher Name
Raleigh Acupuncture Associates
Publisher Logo