Most of us have aspects of our health that need improvement. For some, you have pain that will not go away. Others have diagnosed health conditions that require monitoring or medication. Most of us have too much stress and anxiety, which makes our other health issues worse. What if you could restore your health naturally, with less dependence on doctor visits, surgery, or medications? Today's blog post explores the ancient life force called Qi (pronounced Chee) and proposes ways to tap into this force to find meaningful healing.
What Is Qi?
Qi is a concept developed thousands of years ago and is the foundation of Chinese medicine. Qi is vibrancy, energy, the ingredient that infuses all life on Earth. When Qi is abundant in our bodies, we have good health. Qi circulates through the body, nourishing our organs, building, and moving blood through our vessels. All health problems, and all health remedies, can be described in terms of Qi.
Restore Your Health Naturally
The secret to the powerful healing potential of acupuncture lies in its ability to harmonize the Qi in a person's body. Any of you who have had acupuncture for an ailment is familiar with this experience. Pains ease and health conditions dissipate, all through the gentle use of tiny needles, strategically placed on the body.
All disease comes from imbalances. Health is balance, while sickness reflects an imbalance in the body. Chinese medicine practitioners identify imbalances and then create treatment plans to restore balance with acupuncture. Every health condition is simply a reflection of disharmony in the body. Restoring proper Qi flow is the key to restoring health.
How Does Qi Heal Disease?
Take stress, for example. Everyone is stressed these days because of Covid-19. The emotions of stress, fear, and anxiety are directly related to Qi in your body not flowing smoothly. We call this Qi stagnation. A stressful telephone conversation causes a small degree of Qi stagnation, while a global pandemic generates severe Qi stagnation. All of this stuck energy in the body leads to imbalances in our organs, and poor blood circulation to our muscles, tendons, and ligaments. But don't despair – there is a way to restore your health naturally from Qi stagnation.
Qi stagnation from stress is the root cause of such health conditions as Irritable Bowel Syndrome, migraine headaches, chronic neck pain, and depression. The bad news is that with each passing year, we internalize more stress, resulting in more disharmony and disease. The good news is that acupuncture can get stagnant Qi flowing again, training our bodies to keep Qi circulating even in times of stress. Acupuncture empowers our bodies to stay healthy in an unhealthy world.
Combining Western and Eastern Medicine
Don't get me wrong – I love my primary care doctor. And I'm not anti-medication. Many medications work great for patients. Furthermore, preventative procedures like colonoscopies and mammograms save countless lives. But Western medicine can't do everything. And tapping into the power of Qi can play a significant role in improving people's health.
Whenever you can, wherever you are able, restore your health naturally. Let good Qi circulation harmonize your body first, and save Western medicine for when Qi circulation is not enough. In the future, a doctor visit should begin with an intake to determine the most effective, least invasive, health care solution for your health issue. Some patients would start with acupuncture, others with chiropractic or homeopathy. Still, others would leapfrog directly to a surgeon or medication specialist.
Integrative healthcare will come. For now, take the time to find the right place to start your healing. Feel free to call us to discuss your health issue and how best to tackle it. We are here to help.
Next Steps
If you know that you would like to try acupuncture for a health condition, click below.
BOOK NOW to schedule an appointment online.
MEET OUR PRACTITIONERS (VIDEO)
LEARN ABOUT THE CONDITIONS WE TREAT.
Natural Healing with Acupuncture
Restore your health naturally with acupuncture. It is the safest medicine on the planet. Acupuncture gets your Qi flowing smoothly again, resolving sickness and disease from the inside out.
Summary
Article Name
Restore Your Health Naturally - Raleigh Acupuncture
Description
Restore your health naturally with acupuncture. Safe, relaxing treatments deliver long-lasting healing from pain and disease.
Author
Publisher Name
Raleigh Acupuncture Associates
Publisher Logo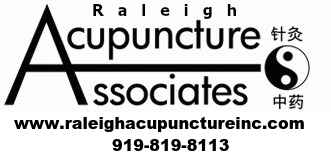 What our Clients are Saying
I was feeling depressed and stressed because I didn't like my job and didn't know what to do with my life.  I started taking Lexipro but it really affected my libido so I stopped taking it.  I tried acupuncture because my husband said it helped him when he was depressed years earlier (before he met me!)  I went to Raleigh Acupuncture and started treatments.  They were really knowledgeable about Chinese medicine and explained how the body gets stuck in depression, and how the acupuncture gets the body unstuck.  They really listened to me and helped me figure stuff out.  I started feeling less depressed.  Then I actually started getting more clear about what I wanted to do with my life career-wise.  I decided to go back to school and now I'm almost done with my degree.  I haven't felt depressed at all since I was treated and I'm really excited about my life.  I'm very grateful to them for being such great healers and such a great support to me when I really needed it.
Tracy B
Thank you for your gentle healing spirit. May God bless you as you help others in the healing methods of acupuncture.. My sessions for stress relief were very helpful. In gratitude.
Susie W
I just started acupuncture and I can really see the benefits. I've done massages and all the Western style treatments but this is amazing! It relaxes me in ways I didn't know could happen and I feel immediate results. I would recommend acupuncture as a treatment. The doctor was great in my initial meeting more thorough than my regular doctor. Highly recommend this!
Lynn S
I'm a golfer and started having trouble with my left shoulder over a year ago. My doctor wanted to do surgery, but I wanted to try other alternatives first. So I tried acupuncture. The folks at Raleigh Acupuncture were very professional, reasonably priced and did excellent work. They resolved my shoulder pain completely. I use them now for other pains in my post-50 body! Thank you Raleigh Acupuncture.
Tony J
I'm a dentist and over the last 20 years the nature of my work and positions required by my work had resulted in chronic neck pain. It affected my sleep, limited my ability to exercise, and was just a real pain in the neck! A friend at church recommended Raleigh Acupuncture and I gave it a try. I have to say that I was a bit skeptical, but gave it a try because I had tried a number other therapies with no success. I'm glad I did. They resolved my neck pain completely!
Brent W
All of my joints were hurting. I've got fibromyalgia and it effects me by making my joints hurt. The pain would move around from place to place, first the hip, the next day the shoulder, then the knee, etc. The practitioner at Raleigh Acupuncture explained that the best way to treat my kind of moving joint pain was to treat me holistically. Instead of treating the hip one day, the shoulder the next, they treated the root of the pain. They said this type of treatment would also improve my mood and my sleep. Right on all counts. I started feeling better after the second treatment. It's like all of the joints just settled down and stopped giving me trouble. I had less flares and the intensity of the pain went way down. My sleep is better, not just because I have less pain. I'm more relaxed and less stressed. I've made this treatment a regular part of my life. I'm very grateful.
Beth C
I suffered from low back pain for years and tried many different remedies. When I came to Raleigh Acupuncture, they really listened to understand my issues. I can honestly say that they cured my chronic back pain. I didn't think it was possible, after all these years. I highly recommend this practice. The doctors take the time and do good work.
Jake P
Summary
Article Name
Restore Your Health Naturally - Raleigh Acupuncture
Description
Restore your health naturally with acupuncture. Safe, relaxing treatments deliver long-lasting healing from pain and disease.
Author
Publisher Name
Raleigh Acupuncture Associates
Publisher Logo