Temporomandibular disorders (TMD) involve the jaw muscles, temporomandibular joints, and nerves resulting in chronic facial pain. Any problem that prevents this system of muscles, bones, and joints from working correctly together can lead to temporomandibular disorder. The TMD Acupuncture Solution reduces jaw pain no matter the cause.
Understanding the Temporomandibular Joint (TMJ)
The temporomandibular joints (TMJ) connect the lower jaw to the head. They slide and rotate in front of the ears, consisting of the mandible (lower jaw) and the temporal bone (head). The TMJs are complex joints that, along with muscles, enable the jaw to move up and down, side to side, forward and back. Chewing, talking, yawning, and swallowing occur seamlessly when the mandible and joints are aligned. However, when these structures are misaligned, problems can occur.
Temporomandibular Disorders (TMD)
There are three primary forms of TMD. First, myofascial pain is the most common, including discomfort or pain in the connective tissue covering the muscles and the muscles that control the jaw, neck, and shoulder. Second, jaw-specific dysfunction includes dislocated jaw, displaced disk, or injury to the condyle. Third, degenerative joint disease involves osteoarthritis or rheumatoid arthritis in the jaw joint. You can have one or more of these conditions at the same time.
TMD Acupuncture Solution
The TMD acupuncture solution is effective for all three types of TMD. We use a combination of local acupoints on the face and jaw and supporting points on the body to increase Qi and Blood circulation and reduce pain. Common acupoints include ST6, ST7, and GB2 on the face, and GB34, ST43, and LV3 on the lower limbs and feet. Notably, the distal points (distant from the source of pain) are just as powerful as the local ones. Some treatments also incorporate electroacupuncture to enhance the strength of the needles.
Patients presenting with jaw pain initially receive four treatments, once a week. We then assess their progress to determine if acupuncture effectively reduces their TMD pain. If so, we continue therapy. Most patients respond well to the TMD acupuncture solution, and we typically can reduce pain levels by 50 to 100 percent.
TMD Case Study
We recently treated a patient who had been diagnosed with TMD. Her jaw hurt all the time, making it difficult to chew her food, yawn, and even smile. She had come to our clinic for another issue, acid reflux, and was excited when we told her we could treat her jaw pain at the same time. Her only hesitation about treating her jaw was that the idea of needles in her face made her nervous. We explained that the needles we use for face treatments are tiny and showed her one. She could barely see it – indeed, they are genuinely hair-thin. Within the first three treatments, her jaw pain eased by 70 percent. She was thrilled with the results. By the time her reflux was resolved (six treatments total), her TMD symptoms were gone as well.
What To Expect
Patient outcomes depend on the severity of the injury and the patient's healing capacity. Acupuncture taps into each patient's healing potential – a healthier person will heal faster than someone with more significant issues. However, even seniors with chronic health conditions can still recover with acupuncture – it just takes a bit longer.
Next Steps
If you or a loved one struggles with jaw pain, try acupuncture. The TMD acupuncture solution is safe, natural, and provides long-lasting relief.
BOOK NOW to schedule an appointment online.
Watch Video About Our TMD Treatment.
Learn about all the conditions we treat.
The TMD acupuncture solution is also known as a TMJ treatment and a jaw pain treatment.
Summary
Article Name
TMD Acupuncture Solution - Raleigh Acupuncture Associates
Description
TMD acupuncture solution - Raleigh Acupuncture. Learn how acupuncture relieves jaw pain associated with temporomandibular disorders.
Author
Publisher Name
Raleigh Acupuncture Associates
Publisher Logo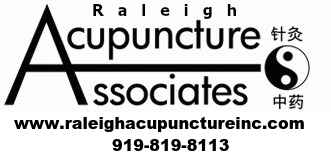 What our Clients are Saying
My jaw was broken 20 years ago and never healed right. I had constant pain all the time. Finally tried acupuncture for a lark. Ended up getting rid of 90% of the pain. Couldn't believe it. I highly recommend Raleigh Acupuncture Associates.
Geoff R
My sister recommended Raleigh Acupuncture for my TMJ, after no luck with other types of treatment. I was surprised and pleased to see that acupuncture helped. My jaw pain is gone after 6 treatments. No pain at all. I recommend this practice to anyone with TMJ.
J.C.
Summary
Article Name
TMD Acupuncture Solution - Raleigh Acupuncture Associates
Description
TMD acupuncture solution - Raleigh Acupuncture. Learn how acupuncture relieves jaw pain associated with temporomandibular disorders.
Author
Publisher Name
Raleigh Acupuncture Associates
Publisher Logo