A 45-year-old woman came to our clinic complaining of right ankle pain for the past year. She had tried everything to get rid of the pain without success. Corticosteroid injections brought temporary relief, but after three injections, she was told it was not safe to continue. Physical therapy and chiropractic had not helped. She was trying acupuncture as a last resort. This article describes how she found a chronic ankle pain solution with acupuncture.
Ankle Pain Is Common
The American Family Physician website states, "Ankle injuries are common presenting complaints in both emergency departments and family physicians' offices. Approximately 1 million ankle injuries occur annually in the United States; most of them are sprains resulting from inversion injuries." Ankle injuries are typically slow to heal and often turn into chronic pain situations.
Evaluation Leads To Discovery
During her intake exam, it became clear to us that our patient's ankle injury was not the only problem she was having. When asked, "What else hurts?" she immediately said her right hip was also giving her trouble. In fact, the entire line between her hip and ankle was in pain. She was currently seeing a chiropractor for her hip pain.
We noticed that the pain in her ankle was located along a specific pathway called the Gall Bladder meridian. There are fourteen major meridians that traverse the body. Her leg and hip pain also fell within the same meridian. We told her that we suspected her ankle pain was related to her hip pain, and that treating both together would most likely help. A blocked meridian in one part of the body often impacts other parts of the body.
Ankle Pain Treatment Plan
We had our patient lay down on her left side (the good side) and we treated her from ankle to hip along the Gall Bladder meridian. Sterile, single-use, hair-thin needles were inserted at specific acupuncture points to "open" the meridian. We explained to her that pain comes from a blockage in the meridians. By opening the blockage, Qi (energy) could once again flow properly, resolving pain.
After just one treatment our patient realized she was experiencing a true chronic ankle pain solution. She felt relief from her ankle, up her leg, and into her hip, as if pressure was being released from that side of her body. A week later, when she came for her second treatment, she reported a 40 percent reduction in overall pain. This feedback confirmed that our diagnosis was correct. The blockage in her Gall Bladder meridian was responsible for the ankle, leg, and hip pain.
Chronic Ankle Pain Solution
After six treatments our patient's pain was completely resolved. The key to success in this case was treating the meridian instead of the local areas of pain. We see this situation arise in many different places in the body. For example, elbow pain is often a meridian issue affecting the shoulder, arm, elbow, and wrist. Mid-back pain frequently involves the neck and low back. A good practitioner will identify the meridian that passes through all of these pain areas and then treat accordingly.
The steroid injections our patient received would never have healed her because they did not address the underlying root issue, blockage in the meridian. In fact, the three injections she received most likely weakened her ankle. This is the reason medical practitioners should always seek the least invasive treatment first.
Next Steps
If you are suffering from ankle pain, try acupuncture, the natural chronic ankle pain solution. You'll know within just a few treatments if acupuncture is helping.
BOOK NOW to schedule an appointment online.
Watch Video about our Ankle Pain treatment.
Learn about all the conditions we treat.
Summary
Article Name
Chronic Ankle Pain Solution - Raleigh Acupuncture
Description
Chronic ankle pain solution - Raleigh Acupuncture. 45-year-old woman's ankle pain resolved with acupuncture. Learn how this treatment worked.
Author
Publisher Name
Raleigh Acupuncture Associates
Publisher Logo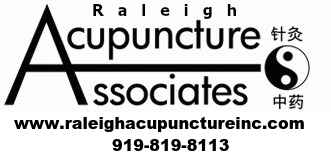 What our Clients are Saying
I'm a runner and had been dealing with Achilles tendinitis for over a year. The doctor said I would have to have surgery eventually so I was just dealing with the pain and biding my time. Then a friend suggested acupuncture and recommended Raleigh Acupuncture as specializing in Achilles issues. I made and appointment and was impressed from the very beginning. Their evaluation was very thorough and they explained everything that acupuncture could do.
The treatments were comfortable, and more importantly, they eased my pain significantly. After six treatments I was running without any Achilles pain! I've totally put the idea of surgery out of my mind since I'm running without pain again. Anyone who has Achilles issues should speak with Raleigh Acupuncture. They can definitely help you.
Sara P
I sprained my ankle playing basketball and was in terrible pain. I've had a history of ankle sprains and knew I was a slow healer. So I tried something different and went to acupuncture. The results were better than I could have ever hoped. Not only did I heal twice as fast, but the swelling went down within two days. I was back playing ball in no time. The staff at Raleigh Acupuncture were very professional and friendly. They got me better fast. I highly recommend them.
Carlos R
I was referred to Raleigh Acupuncture a few months ago because I was having a problem with a bone spur affecting my Achilles. The bone spur caused tremendous pain in my ankle and heel. Physical therapy ordered by a doctor really did not help. My doctor said that if the physical therapy did not help he could do surgery, but it would be very painful and would have an 8-9 month recovery period. Raleigh Acupuncture was my last hope. After a few treatments it was less painful when I walked. As I continued the treatments the pain totally went away. Now surgery is not even necessary. They have also helped me with my migraine headaches and restless leg issues. Acupuncture has made a huge difference in the quality of my life.
M.H.
Summary
Article Name
Chronic Ankle Pain Solution - Raleigh Acupuncture
Description
Chronic ankle pain solution - Raleigh Acupuncture. 45-year-old woman's ankle pain resolved with acupuncture. Learn how this treatment worked.
Author
Publisher Name
Raleigh Acupuncture Associates
Publisher Logo