A 28-year-old man came to our clinic complaining of debilitating diarrhea with cramps and urgency every morning. He was a rising star in the sales department of a large technology company and was frustrated by his condition. This diarrhea case review describes how acupuncture resolved his problem in six treatments.
Morning Bowel Irregularity
Our patient was in good health – he exercised, ate right, and had good energy. His bowel issue was the only health concern that he had. He would have repeated bouts of urgency every morning, requiring him to run to the bathroom. By 11:00 am, the flare would pass, and he was fine for the rest of the day – until the following day.
During his intake exam, he revealed that he was under a great deal of stress. While he hid it well, the pressure tended to accumulate in his gut – he could feel it build as the day progressed. He was an extrovert with a good sense of humor, and someone observing him would never suspect that stress bothered him. But over time, his condition had made him both irritable and hopeless at getting better. His bowel troubles were not improving, and nothing seemed to help.
Diarrhea Case Review
After feeling his pulse and examining his tongue, it was clear that our patient's Chinese medicine diagnosis was Liver-Spleen Disharmony Pattern. His main symptoms were abdominal distention and painful diarrhea, worse with stress or emotional upset, irritability, fatigue, tongue with rough edges, and a wiry pulse. Stress causes the Liver Qi to stagnate, weakening the stomach, intestines, or both. In our patient's case, he felt the brunt of the attack in the intestines.
The key to successfully treating this pattern imbalance is strengthening the Liver, enabling it to circulate Qi energy smoothly, making it difficult for stress to lodge in the body where it can cause trouble. At the same time, treatment needs to strengthen digestion and bowel function by nourishing the spleen, stomach, and large intestine. Excellent acupoints to accomplish this task include LV3, LI4, LI11, ST25, ST28, ST36, ST37, Si shen cong, Yintang, BL18, and BL25.
Young Patients Repond Faster
Young patients often respond faster to acupuncture because they have more qi and blood, and their overall health is more robust. This fact proved to be the case with our patient in this diarrhea case review. After just two treatments, he began seeing improvement with his bowel movements. There was less urgency and frequency, and his bowels were more formed.
With each subsequent acupuncture treatment, his condition continued to improve. He was 80 percent better after the fourth treatment, and following his sixth treatment, he reported having no bowel irregularity. In seven weeks, he experienced complete remission of his IBS symptoms, a condition that had been wreaking havoc in his life for years.
Acupuncture Resolves IBS
Both chronic diarrhea and constipation are all too common today, and we treat many patients who suffer from these conditions. A vast majority of them respond positively to acupuncture. Our patient in this diarrhea case review did not need follow-up maintenance treatments.
Still, many of our older patients benefit from treatments once a month after their course of treatment to maintain the full benefits brought by acupuncture. This is because our digestive system weakens as we age, and that decline in function makes people more susceptible to bowel irregularity. However, acupuncture boosts bowel function, and maintenance treatments often sustain improvements for years.
Same Diagnosis, Different Patterns
In our clinic, we may have five different people come in with a Western diagnosis of IBS, yet their Chinese medicine diagnoses will all be different. That's because acupuncture recognizes different root causes for health conditions.
For example, the patient in this diarrhea case review had IBS-D symptoms due to Liver-Spleen disharmony. Yet, it is quite common for patients to present with IBS-D due to Spleen Yang deficiency, Liver Fire, or Spleen/Kidney Qi deficiency. Therefore, making a correct Chinese medicine diagnosis is instrumental in getting good results from the acupuncture treatment.
Next Steps
BOOK NOW to schedule an appointment online.
Watch Video About Our IBS-D Treatment.
Learn about all the conditions we treat.
Key phrase: Diarrhea Case Review
Summary
Article Name
Diarrhea Case Review - Raleigh Acupuncture Associates
Description
Diarrhea case review - Raleigh Acupuncture Associates. 28-year-old man found long-term relief from IBS-D diarrhea with acupuncture.
Author
Publisher Name
Raleigh Acupuncture Associates
Publisher Logo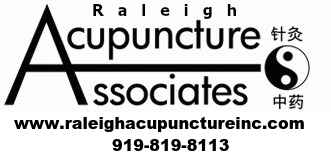 What our Clients are Saying
My IBS triggered diarrhea every day, all day long, but especially in the mornings.  It would be triggered by the foods I ate, stress at work, or nothing at all.  I was getting to the point where I was going to give up my job and try to find a job where I could work out of the house.  As a last resort I went to Raleigh Acupuncture.  I started seeing changes right away, less attacks in the morning, less triggers during the day.  Over the duration of my treatments it seemed like my intestines were getting stronger and less sensitive.  After about a month of treatment I was just having problems in the morning, going about three times.  After about another month I was having normal bowel movements just once in the morning.  As far as I can tell, my IBS is completely healed.
Ian M
I came down with an unbelievable case of diarrhea that lasted more than four weeks.  I was getting severely dehydrated and was exhausted.  My doctor said there was nothing wrong with me, that it was probably due to stress.  The only thing stressing me out was the diarrhea!  I was really starting to get scared, thinking I had contracted some terrible disease.  I went to acupuncture and they immediately said there was a problem with my stomach and intestines, but that it wasn't dangerous and it was treatable.  They treated me with acupuncture and a heat herb that warmed up my stomach.  I felt better immediately, and within a few weeks the diarrhea was completely gone.  I am very grateful to Raleigh Acupuncture for knowing what was wrong with me and treating my condition so quickly.
Lawrence R
My husband Arthur and I have used Raleigh Acupuncture bi-weekly for at least 4 years, for a variety of treatments, including general well-being. Both of us felt our ailments healed with the treatment. I initially visited for Irritable Bowel Syndrome – and had immediate relief… the practitioners are very professional and learned, and we have every confidence in them. Even though we pay out of pocket, we obviously feel that the acupuncture is worth it. We both highly recommend Raleigh Acupuncture – you won't regret it!
Anya G
I have always had a nervous stomach.  Some people get headaches, I get stomach aches.  It's always worse with stress and eases up on the weekends when I can relax.  I did not think of getting treatment until I stumbled on an article saying how acupuncture was excellent for treating stomach pain.  I went to Raleigh Acupuncture and described my condition.  They explained why my stomach hurt.  It totally made sense to me.  It's all about internal balance.  So they went to work on me to get my stomach balanced.  And I'm pleased to say that it worked.  I no longer have a nervous stomach and stomach pain, even in stressful situations.  I've made some changes to my diet, based on their recommendations, and took chinese herbs for a while, but don't need to take them now.  I'm convinced that I would have lived with stomach pain for the rest of my life had it not been for acupuncture.
Polly B
I'm totally afraid of needles, but my wife convinced me to try acupuncture for my IBS.  It was really hampering my life.  I'd have to go to the bathroom 5 times before leaving for work.  Then at work I'd be sitting in a meeting and all of a sudden have to go again.  Any type of stress set me off.  At first they could only use 2 needles, that's all I would let them do.  But after a few treatments I started relaxing and felt more comfortable with the needles.  The effect has been amazing.  I'm so much better now.  Mornings are easy, no problems at work.  It's hard to believe, because I've had this for my entire adult life.  Now I just go in for maintenance and have some herbs I take when I need them.  Raleigh Acupuncture is a great outfit.
Samuel N
Summary
Article Name
Diarrhea Case Review - Raleigh Acupuncture Associates
Description
Diarrhea case review - Raleigh Acupuncture Associates. 28-year-old man found long-term relief from IBS-D diarrhea with acupuncture.
Author
Publisher Name
Raleigh Acupuncture Associates
Publisher Logo