A 2014 fatigue acupuncture research study concluded that acupuncture was effective for the treatment of chronic fatigue syndrome (CFS). The total effective rate of acupuncture was 80.0%.
A high complete recovery rate was achieved with acupuncture as a standalone therapy for CFS patients in 20 office visits. As a result the researchers conclude, "Electroacupuncture can produce a remarkable efficacy in treating CFS."
Chronic Fatigue
CFS presents as extreme fatigue often without a biochemical or organic cause. It may also involve musculoskeletal pain, sleep disorders, headaches, impaired cognition and memory, swollen or tender lymph nodes, chronic sore throat, persistent low grade fever, anxiety and depression.
Researchers acknowledge that the etiology is not known. It may be due to viral infections, immune system disorders and/or hormonal imbalances. Chronic fatigue syndrome is most common with women in the 40s and 50s. Patients that are overweight or less active are more likely to develop the condition. Stress is most likely an aggravating and/or exacerbating factor.
Location of Study
This fatigue acupuncture research was conducted at Taihe Hospital in affiliation with the Department of Acupuncture and Moxibustion, Hubei University of Chinese Medicine. Criteria for inclusion in the study followed standard Centers for Disease Control and Prevention (CDC) guidelines.
Selection of Patients
Patients had at least 6 months of unexplained persistent or recurrent extreme fatigue that was debilitating and could not be relieved by rest. Activities of daily living must have shown a decrease by at least 50%.
Each patient in the fatigue acupuncture research study had at least 4 of the following symptoms: persistent post-exertion fatigue, sleep problems, musculoskeletal pain, sore throat, brain fog or memory loss, joint pain not accompanied by redness or swelling, lymph node swelling in the armpit or neck, or headaches.
Acupuncture Treatment
Sterile, stainless steel, single-use needles were inserted into specific points. An achy sensation (called deqi) was obtained on the points. The needles were retained for 20 minutes. Next, between 4-6 acupuncture points were given electroacupuncture stimulation.
Acupuncture points used in the study included: GV20 (Baihui), CV4 (Guanyuan), CV6 (Qihai), BL25 (Xinshu), BL18 (Ganshu), BL13 (Feishu), BL20 (Pishu), BL23 (Shenshu), PC6 (Neiguan), HT7 (Shenmen), SP6 (Sanyinjiao), ST36 (Zusanli). Many of these acupuncture points are classically used in Traditional Chinese Medicine (TCM) for the strengthening of qi.
Results
For the purposes of this fatigue acupuncture research, a complete recovery was defined as a resolution of all major symptoms and complications. In addition, it required that a patient return to both a normal social life and a normal work life and schedule. 80% of the patients obtained a complete recovery. Acupuncture proved extremely effective for delivering positive patient outcomes.
Fatigue Acupuncture Research
Our experience at Raleigh Acupuncture aligns with this fatigue acupuncture research study. Fatigue patients respond positively to acupuncture. They regain their strength, focus and emotional health.
Next Steps
BOOK NOW to schedule an appointment online.
WATCH VIDEO ABOUT OUR FATIGUE TREATMENT.
LEARN ABOUT OTHER CONDITIONS WE TREAT.
References
Huang, Fang, Xiong Chen, Li-zhi Zhou, Ping Huang, and Li-hong Guo. "Clinical study on electroacupuncture plus interferential current therapy for chronic fatigue syndrome." Journal of Acupuncture and Tuina Science 12, no. 3 (2014): 156-159.
Summary
Article Name
Fatigue Acupuncture Research - Raleigh Acupuncture
Description
Fatigue acupuncture research - Raleigh Acupuncture. Study concluded acupuncture helped resolve chronic fatigue effectively ad naturally.
Author
Publisher Name
Raleigh Acupuncture Associates
Publisher Logo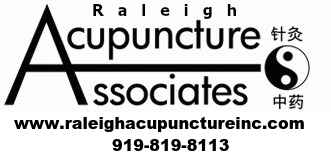 What our Clients are Saying
About six months ago I starting getting debilitating fatigue, to the point where I could not exercise and had to drag myself through the day at work.  The doctors said it must be stress, because there was nothing wrong with me.  But when I went to Raleigh Acupuncture, they said that my digestion was weak.  They said I was not getting proper energy from the food I was eating, so they treated my digestive system.  I was amazed to see my energy increase after the treatments.  Within 10 treatments I was back to my old self, exercising again and working through the day no problem.  And as a side benefit, I started losing weight.  They said this was related to my improved digestive function.  Now my friends want to go because they see my energy back and see me losing weight!
Hilary D
I am a long term patient of Raleigh Acupuncture. Prior to being under their care, I was disabled with terrible fatigue and pain all over my body. I was unable to drive, could only walk less than a block, and had numerous symptoms that mystified doctors. After countless lab work, x-rays, and MRI's, several doctors including my primary physician told me that there was nothing that could be done. According to them, it was either an illness that was undiagnosable or it was all in my head. When I came to Raleigh Acupuncture, it was a breath of fresh air. They took me very seriously and were not mystified by my condition. They assured me that my condition was treatable and manageable. They treat me with respect, dignity and care; something that I didn't receive at my primary care doctor. Thanks to their treatments I am now living a normal life. They have restored my health and taught me how to manage my condition. My family and friends can't believe how much improvement I have made. My son is grateful to have his mommy back! And I am eternally grateful to Raleigh Acupuncture! They truly have the gift of healing!
Rossina C
I still am forever in your debt for helping me through the Lymes recovery. My body pain and fatigue were overwhelming before getting acupuncture. I still tell everyone today that I am 100% positive that my recovery was a direct result of your expert care. Truly. I have very little residual effects from the disease that I can easily live with. So again,thank you not only for your amazing skills, but for the compassion and kindness that you showed me during that time.
Carol F
Summary
Article Name
Fatigue Acupuncture Research - Raleigh Acupuncture
Description
Fatigue acupuncture research - Raleigh Acupuncture. Study concluded acupuncture helped resolve chronic fatigue effectively ad naturally.
Author
Publisher Name
Raleigh Acupuncture Associates
Publisher Logo