A 28-year-old woman came to our acupuncture clinic struggling with abdominal pain, nausea, bloating, and poor appetite. She also had frequent headaches, fatigue, and high levels of stress and anxiety. This abdominal pain relief acupuncture case study describes how acupuncture resolved her abdominal pain, along with her other symptoms.
Intake & Diagnosis
During her intake, we discussed her symptoms, examined her tongue, and felt her pulse. Her tongue was pale and swollen, with scalloped edges. This presentation indicated that her digestive system was weak. The tongue should be pink, not swollen, with smooth edges. Also, her pulse was weak, indicating a lack of Qi. A weak pulse also points to digestive problems because it's the Stomach's job to transform food into energy.
Poor digestion points to Spleen Qi deficiency, and in fact, her diagnosis was abdominal pain due to Spleen Qi deficiency. Think of Spleen Qi as the energy produced from the food we eat. Chinese medicine describes the Stomach's job to contain the food while the Spleen's job is to transform that food into energy (Qi). So the Spleen plays a more critical role in our health than the Stomach. There are two types of organs in the body, yin, and yang. Yang organs hold and contain, while yin organs transform.
The Stomach holds food while the Spleen transforms it into energy. Other yin/yang paired organs include the Kidney/Bladder and Liver/Gall Bladder. While all organs are essential to our health, the yin organs play a more significant role. Chinese medicine diagnosis, therefore, speaks more often in terms of yin organ function, as in the case with our patient in this abdominal pain relief acupuncture case study.
Explaining Her Symptoms
Acupuncturists are health detectives. A patient comes to our clinic with a problem, and it's our job to figure out the underlying imbalance responsible for their condition. Our patient's abdominal pain, nausea, bloating, poor appetite, fatigue, and anxiety were all attributable to her Spleen Qi deficiency. Her headaches and stress indicated another pattern imbalance involving what we call Liver Qi stagnation. We often see these two pattern imbalances together and can treat them simultaneously.
An experienced acupuncturist can make a diagnosis like this on the spot after examining a patient. That's what we did with our patient, explaining her diagnosis based on her presenting symptoms, tongue, and pulse. The next step was to create a treatment plan to correct these imbalances. That plan involved strengthening her Spleen Qi and smoothing her Liver Qi. By the time our patient lay down on the treatment table, we knew the points we wanted to use.
Acupuncture Treatment for Abdominal Pain
No two acupuncture treatments are the same. Five people could come to our clinic presenting with abdominal pain and receive five different treatments. That's because their underlying Chinese medicine diagnosis will be subtly different. This patient had Spleen Qi deficiency with overactive Liver. Another patient with abdominal pain could easily present with Spleen Qi deficiency with Damp Heat in the Lower Jiao or Spleen Qi deficiency with concurrent Heart Blood deficiency. Each diagnosis would require a different treatment plan.
Since our patient had a tight neck (stress and headaches), we decided to treat her face down. We would be using acupuncture points on the back of the body as opposed to the front. You can treat abdominal pain using either side or both. Her treatment points include GB20, GB21, BL15, BL18, BL20, BL23, and BL25. We also included scalp points GV20 and Si shen cong. Within five minutes of points being in, our patient was fast asleep! Acupuncture is relaxing for most patients.
Also, we prescribed the Chinese herbal formula Shu Gan Pian, which strengthens the Stomach, smooths Liver stagnation, and eases abdominal pain. Chinese herbs are safe, with no side effects and no contraindications that come with most Western medications. These herbs would supplement her acupuncture treatments to speed up her healing.
Abdominal Pain Relief Acupuncture Results
We treated our abdominal pain relief acupuncture patient once a week for four weeks and then assessed her progress. At Raleigh Acupuncture, we tell our patients that they can expect to see significant relief, if not complete resolution of their problem, within these first four treatments. If they don't respond, we help them figure out other therapies that might help them. Happily, more than 90 percent of the time, patients respond favorably to their acupuncture treatment.
Our patient had 50 percent less abdominal pain after her fourth treatment, with equally less anxiety, stress, and headaches. We continued treating her for another three weekly sessions, getting her 70 percent better. Treatments then dropped to every other week for another four sessions, at which time she was completely better.
Next Steps
If you struggle with abdominal pain, try acupuncture.
Book Now to schedule an appointment online.
Watch Video About Our Abdominal Pain Treatment. 
Learn About All The Conditions We Treat.
Summary
Article Name
Abdominal Pain Relief Acupuncture Case Study - Raleigh Acupuncture
Description
Abdominal pain relief acupuncture case study. 28-year-old woman overcame stomach pain, headaches and anxiety with acupuncture.
Author
Publisher Name
Raleigh Acupuncture Associates
Publisher Logo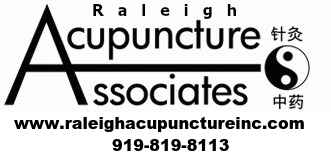 What our Clients are Saying
I developed severe abdominal pain following the stomach flu. Three rounds of antibiotics did not help. Neither did an elimination diet. Raleigh Acupuncture got rid of the pain in six treatments! Acupuncture is amazing. And so are they.
Alan J
I have always had a nervous stomach.  Some people get headaches, I get stomach aches.  It's always worse with stress and eases up on the weekends when I can relax.  I did not think of getting treatment until I stumbled on an article saying how acupuncture was excellent for treating stomach pain.  I went to Raleigh Acupuncture and described my condition.  They explained why my stomach hurt.  It totally made sense to me.  It's all about internal balance.  So they went to work on me to get my stomach balanced.  And I'm pleased to say that it worked.  I no longer have a nervous stomach and stomach pain, even in stressful situations.  I've made some changes to my diet, based on their recommendations, and took chinese herbs for a while, but don't need to take them now.  I'm convinced that I would have lived with stomach pain for the rest of my life had it not been for acupuncture.
Polly B
Summary
Article Name
Abdominal Pain Relief Acupuncture Case Study - Raleigh Acupuncture
Description
Abdominal pain relief acupuncture case study. 28-year-old woman overcame stomach pain, headaches and anxiety with acupuncture.
Author
Publisher Name
Raleigh Acupuncture Associates
Publisher Logo