A 2012 ankle pain research study concluded that acupuncture was effective in treating athletes with functional ankle instability. The study, conducted at the Shanghai Hospital of Traditional Chinese Medicine (TCM), compared acupuncture to physical therapy to see which therapeutic technique garnered the best results.
Ankle Injuries Common Among Athletes
The ankle is one of the most commonly injured joints in sports and exercise. Some ankle injuries are not severe and heal on their own. However, others are more significant and can linger for weeks or months. Common ankle injuries include ankle sprain, Achilles tendonitis, lateral malleolus injury, high ankle sprain, peroneal tendon subluxation, and plantar fasciitis. Acupuncture can treat all of these conditions and is worth exploring before undergoing more invasive treatment (like surgery).
Ankle Pain Research
The investigators in this ankle pain research study applied electroacupuncture to the following points: ST41 (Jiexi), BL60 (Kunlun), GB40 (Qixu), and Ashi (tender) points. Electroacupuncture involves sending a gentle electrical current down the needle into the site of injury. It has been used in China since the 1950s and enhances the effects of the treatment.
This treatment protocol functionally improved ankle stability while significantly increasing proprioception. Wikipedia describes proprioception in the following way: "Proprioception, also referred to as kinaesthesia (or kinesthesia), is the sense of self-movement and body position. It is sometimes described as the "sixth sense." (https://en.wikipedia.org/wiki/Proprioception). Compared to physical therapy, the investigators found that the acupuncture group had superior improvement.
Acupuncture for Ankle Pain
Chronic ankle instability typically develops after sprains have caused ligament damage. This condition leads to a reduction in proprioception. Remember, proprioception is our ability to sense relative body position and the corresponding strength needed to move the different parts of our body safely and efficiently. Ankle instability reduces our proprioception, dramatically interfering with our balance and gait. This imbalance increases our susceptibility to additional injuries.
This ankle pain research study concluded that electroacupuncture improved proprioception for athletes who had functional ankle instability. Furthermore, they found that electroacupuncture achieved greater clinical results than conventional physical therapy.
Next Steps
Book Now to schedule an appointment online.
Watch Video About Our Ankle Pain Treatment.
Learn About All The Conditions We Treat.
For more information about ankle pain research and acupuncture, check out Ankle Pain Research Study #1.
Reference
Zhongguo Zhen Jiu. 2012 Jun;32(6):503-6. [Effects of electroacupuncture on the proprioception of athletes with functional ankle instability]. [Article in Chinese] Zhu Y, Qiu ML, Ding Y, Qiang Y, Qin BY. Department of Rehabilitation, Shanghai Hospital of TCM Affiliated to Shanghai University of TCM, Shanghai, China.
Summary
Article Name
Ankle Pain Research - Raleigh Acupuncture Associates
Description
Ankle pain research - Raleigh Acupuncture. Study concluded acupuncture was effective in treating athletes with functional ankle instability.
Author
Publisher Name
Raleigh Acupuncture Associates
Publisher Logo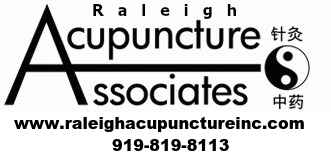 What our Clients are Saying
I'm a runner and had been dealing with Achilles tendinitis for over a year. The doctor said I would have to have surgery eventually so I was just dealing with the pain and biding my time. Then a friend suggested acupuncture and recommended Raleigh Acupuncture as specializing in Achilles issues. I made and appointment and was impressed from the very beginning. Their evaluation was very thorough and they explained everything that acupuncture could do.
The treatments were comfortable, and more importantly, they eased my pain significantly. After six treatments I was running without any Achilles pain! I've totally put the idea of surgery out of my mind since I'm running without pain again. Anyone who has Achilles issues should speak with Raleigh Acupuncture. They can definitely help you.
Sara P
I sprained my ankle playing basketball and was in terrible pain. I've had a history of ankle sprains and knew I was a slow healer. So I tried something different and went to acupuncture. The results were better than I could have ever hoped. Not only did I heal twice as fast, but the swelling went down within two days. I was back playing ball in no time. The staff at Raleigh Acupuncture were very professional and friendly. They got me better fast. I highly recommend them.
Carlos R
I was referred to Raleigh Acupuncture a few months ago because I was having a problem with a bone spur affecting my Achilles. The bone spur caused tremendous pain in my ankle and heel. Physical therapy ordered by a doctor really did not help. My doctor said that if the physical therapy did not help he could do surgery, but it would be very painful and would have an 8-9 month recovery period. Raleigh Acupuncture was my last hope. After a few treatments it was less painful when I walked. As I continued the treatments the pain totally went away. Now surgery is not even necessary. They have also helped me with my migraine headaches and restless leg issues. Acupuncture has made a huge difference in the quality of my life.
M.H.
Summary
Article Name
Ankle Pain Research - Raleigh Acupuncture Associates
Description
Ankle pain research - Raleigh Acupuncture. Study concluded acupuncture was effective in treating athletes with functional ankle instability.
Author
Publisher Name
Raleigh Acupuncture Associates
Publisher Logo