New sciatica acupuncture research concludes that acupuncture and Chinese herbs relieve sciatica, a painful condition described as low back pain radiating through the hips, buttocks, and down the legs. The study, conducted at the Rizhao Hospital of TCM (Traditional Chinese Medicine) and the Shanghai University of TCM, examined the benefits of acupuncture for the relief of sciatic pain.
Results
Acupuncture had an effectiveness rate of 81.6% for the relief of sciatic pain resulting in the return of normal function. Acupuncture combined with herbal medicine achieved a 95% total effective rate. Researchers concluded that the combined therapy of acupuncture and herbs was more effective than using acupuncture alone for the treatment of sciatica.
Researchers noted that acupuncture increased serum β-EP, which reduced transmission of nerve pain signals. Sciatica is also characterized by increased levels of IL-1,IL-6, and TNF-α. They found that acupuncture successfully down-regulated these biochemicals, leading to reductions of pain and inflammation.
Outcome Measures
The Oswestry Disability Index (ODI), the Japanese Orthopaedic Association (JOA) score, and the Visual Analogue Scale (VAS) were used to measure changes in pain levels, functions of daily activity, lifting, walking, sitting, standing, sleeping, socialization, travelling, and other aspects of life affected by sciatica. Measurements were taken prior to therapy and 3, 10, and 22 days after completion of treatment.
Intervention
The primary acupuncture points used in the treatments included: Zhibian, BL54, Chengfu, BL36, Huantiao, GB30, Fengshi, GB31, Weizhong, BL40, Dachangshu, BL25, Chengshan, BL57, Yaoyangguan, DU3, and Ashi (tender points as needed on each individual patient).
Additional acupuncture points were added for specific pattern diagnoses. For qi stagnation and blood stasis, Xuehai (SP10) and Taichong (LV3) were added. For liver and kidney deficiency, Shenshu (BL23) and Taixi (KD3) were added. For cold and damp stasis, Yanglingquan (GB34) was added. Adding these points to fit each patient's unique presentation were essential to tap acupuncture's full healing potential.
Mild reinforcing and reducing manual acupuncture techniques were applied with 0.30 x 40 mm acupuncture needles. Stimulation was applied until deqi was evoked at each acupoint. Total needle retention time for each acupuncture session was 15 to 30 minutes.
The herbal formula Tong Bi Zhi Tong Tang was ingested orally. The primary ingredients are:
Du Zhong, Eucommia ulmoides 15 g
Sang Ji Sheng, Chinese taxillus 15 g
Gou Ji, Rhizoma cibotii 15 g
Gui Zhi, Cassia 10 g
Hong Hua, Safflower 6 g
Dang Gui, Angelica 10 g
Chuan Xiong 15 g
Niu Xi, Cyathula officinalis 15 g
Wei Ling Xian, Clematis 15 g
Sheng Ma, Bugbane 10 g
Bai Zhi, Angelica dahurica 10 g
Tian Nan Xing, Rhizoma arisaematis 10 g
Zhi Gan Cao, Honey-fried licorice root 6 g
Additional herbs were added based on pattern diagnostics. For cold and damp stasis, Chuan Wu (Radix aconiti preparata) 15 g and Xi Xin (Asarum sieboldii) 3 g were added. For qi and blood stasis, Ru Xiang (Boswellia carterii) 10 g and Mo Yao (Myrrh) 10 g were added. For qi deficiency, Huang Qi (Astragalus) 30 g was added. For liver and kidney deficiency, Shu Di Huang (Rehmannia glutinosa) 20 g and Shan Zhu Yu (Cornel) 10 g were added.
Conclusions
The clinical and objective test results from this sciatica acupuncture research indicated significant reductions in pain, increases in functionality, and reductions in inflammatory responses for sciatica patients. Manual acupuncture, on its own, achieved an 81.6% total effective rate. When acupuncture was combined with herbs, therapy achieved a 95% total effective rate.
Related Studies
In a related study, Hoang et al. found electroacupuncture effective for sciatic nerve regeneration. In a laboratory experiment, electroacupuncture restored motor functions and enhanced recovery rates for injured sciatic nerves. The results demonstrated that electroacupuncture stimulates recuperation from "neuropathic pain that develops following a nerve injury."
Hoang et al. noted that electroacupuncture promotes sensory and motor nerve fiber regeneration while shortening the duration of recovery times following nerve injuries. The researchers concluded that "electro-acupuncture appears to be a valuable method to accelerate motor recovery and alleviate neuropathic pain symptoms that occur after nerve crush." These findings are consistent with the Li et al. manual acupuncture results.
Sciatica Acupuncture Research and Raleigh Acupuncture
At Raleigh Acupuncture we treat sciatica with similar results. This research allows our patients and the general public to better understand the mechanism involved in the acupuncture treatment. We believe acupuncture is the best treatment for sciatica because it has a high success rate, is much less invasive than cortico-steroid injections, is more cost effective, and has longer lasting benefits.
What To Expect
All needles are sterile, single-use and hair thin. You will hardly feel them. Treatments are relaxing. Many of our patients fall asleep during their sessions. You will wake feeling refreshed.
Next Steps
BOOK NOW to schedule an appointment online. Or call us at 919-819-8113 and we will schedule an appointment for you. We hope that presenting this sciatica acupuncture research will give you a level of comfort to explore acupuncture as a good form of medical treatment for sciatica.
WATCH VIDEO ABOUT OUR SCIATICA TREATMENT.
LEARN ABOUT ALL THE PAIN CONDITIONS WE TREAT.
LIST OF ALL CONDITIONS WE TREAT.
References
Li, L., Li, N. J., Xin, D. M. & Zhao, L. (2014). Tongbi Zhitong Decotion Combined with Acupuncture Treatment on 60 Patients with Sciatica of Nerve Roots. Chinese Journal of Experimental Traditional Medical Formulae. 20(20).
Han, C., Sun, Z. R. & Yue, J. H. (2014). Efficacy of Acupuncture Treatment on Nerve Root Sciatica. Liaoning Journal of Traditional Chinese Medicine. 41(2): 324.
Hoang et al. BMC Complementary and Alternative Medicine 2012, 12:14. Electro-acupuncture on functional peripheral nerve regeneration in mice: a behavioural study. Ngoc Son Hoang, Chamroeun Sar1 Jean Valmier, Victor Sieso, and Frédérique Scamps.
Summary
Article Name
Sciatica Acupuncture Research - Raleigh Acupuncture Associates
Description
Sciatica acupuncture research - Raleigh Acupuncture Associates. New research finds acupuncture 95% effective at resolving sciatic pain.
Author
Publisher Name
Raleigh Acupuncture Associates
Publisher Logo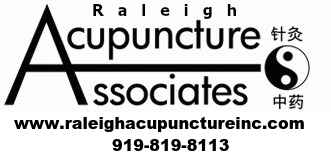 What our Clients are Saying
I'm a semi-professional weight lifter. I never had a problem until my hip went out doing squats. The pain was tremendous, like a sharp nerve pain down the back of my leg into the calf. It had sidelined me for two months while I tried unsuccessfully to work out the pain. Then a buddy suggested acupuncture. He had a similar hip pain and got relief at Raleigh Acupuncture. I went there and got treated. They told me to stop stretching until the injury was healed. I followed their instructions and got half a dozen treatments. The pain started easing after the first few treatments. I continued for another 6 treatments and was totally cured. I was able to get back to lifting with no residual effects of the injury. I've recommended this practice to a number of friends since that time and they all have had good experiences.
T.J.
Ever since my hip replacement I had terrible hip pain that radiated down my leg into my foot. They were talking about redoing the hip, which I didn't want to do, so I tried acupuncture. The doctors at Raleigh Acupuncture were wonderful. They gave me lots of time and told me what they were doing. They got rid of 90% of my pain. I can live with that!
Sylvia T
I've been suffering from sciatic pain for years, since I was in a car accident. I tried everything and nothing helped. I couldn't walk right and had a bad limp. My son made me go to Raleigh Acupuncture (I am afraid of needles!). They told me they would treat me 4 times to see how I responded. Well, I responded great. I had to get 6 treatments to get rid of the pain. Now I walk fine (no limp) and feel all better. Great place!
Linda L
Summary
Article Name
Sciatica Acupuncture Research - Raleigh Acupuncture Associates
Description
Sciatica acupuncture research - Raleigh Acupuncture Associates. New research finds acupuncture 95% effective at resolving sciatic pain.
Author
Publisher Name
Raleigh Acupuncture Associates
Publisher Logo