Vestibular migraines include much more than headaches. They are also associated with nausea, vomiting, sweating, flushing, diarrhea, and visual changes such as blurring, flashing lights, and difficulty focussing. Patients also report difficulty concentrating, finding bright lights and loud sounds uncomfortable, and most commonly feel extreme tiredness and fatigue, needing to sleep. The vestibular migraine acupuncture treatment effectively addresses these symptoms at the root level, providing long-lasting relief.
Other Common Vestibular Migraine Symptoms
Vestibular migraine is the most common cause of recurrent spontaneous vertigo and the second most common vestibular disorder after benign paroxysmal positional vertigo. There is also a strong association with Ménière's disease, with approximately half of people with Ménière's disease experiencing at least one migraine symptom during a Ménière's attack. Other common forms of vestibular migraine overlap with IBS, stomach pain, bowel irregularity, anxiety, and depression.
Four Facts About Vestibular Migraines
1) Vestibular migraine can cause vestibular (balance) symptoms with or without an actual headache.
2) There is almost always a history of motion sensitivity (such as car sickness) since childhood and migraine headaches at some point in the person's life.
3) Vestibular migraine is poorly understood – it seems to involve overlapping pathways modulating pain and vestibular inputs into the brain.
4) Migraine headaches and vestibular migraines share many of the same triggers.
Vestibular Migraine Acupuncture Treatment
When a patient comes to our clinic armed with a diagnosis of vestibular migraine, the first thing we do is conduct an intake exam to explore all of the symptoms they are experiencing. We then feel their pulse and look at their tongue. Finally, armed with this information, we make a Chinese medicine differential diagnosis to determine the root cause of their migraines.
Unlike classic migraine headaches, vestibular migraines involve many other potential symptoms and often do not involve head pain. However, their various symptoms are often linked and can be treated effectively with root treatment. For example, it is common for a patient to experience severe stomach pain, diarrhea, nausea, and dizziness and find relief when the Chinese medicine imbalance of "Liver Overacting on Stomach and Large Intestine" is addressed.
The most common triggers for vestibular migraine include:
1) Stress and anxiety.
2) Poor sleep
3) Missing meals and not taking enough water.
4) Dietary triggers – many common foods, especially caffeine.
5) Hormonal changes – menstruation, menopause, and teenage years.
Acupuncture Treatment for Vestibular Migraine
The vestibular migraine acupuncture treatment is ideally suited to treat these root causes. Stress, anxiety, insomina, weak digestive function and hormone imbalance are conditions we treat on a daily basis with great success. We also counsel our patients on lifestyle and dietary health, so they can maintain good health after their treatment is complete.
Next Steps
BOOK NOW to schedule an appointment online.
WATCH VIDEO ABOUT OUR COMMON MIGRAINE TREATMENT.
WATCH VIDEO ABOUT OUR VERTIGO TREATMENT.
Try the vestibular migraine acupuncture treatment. It is safe, natural, and provides long-lasting relief. Needles are sterile, single-use, and hair-thin.
Summary
Article Name
Vestibular Migraine Acupuncture Treatment - Raleigh Acupuncture
Description
The vestibular migraine acupuncture treatment is safe and natural. It addresses root issues and provides long-lasting relief.
Author
Publisher Name
Raleigh Acupuncture Associates
Publisher Logo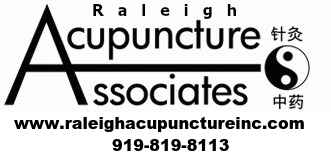 What our Clients are Saying
I saw Dr. Jade to treat my migraine headaches. I was a skeptic about acupuncture. But now, I'm a true believer in the treatment. Dr. Jade worked miracles in relieving my migraines!! She's worth her weight in gold!! Thank you Dr. Jade!
Maureen K
Thanks Mark for helping me to get rid of my gastritis! With you help and dedication I'm feeling so much better. Recommended!
Vivian A
Raleigh Acupuncture was recommended by a friend after I mentioned my insomnia and dependency on a sleeping pill. My apprehension was short lived because of the results of my visits to Dr. Mark. With acupuncture treatments and Chinese herbs I was able to begin sleeping well and continue to do so. Dr. Mark is a good listener and encourages his patients in all health issues as well as the original purpose for treatment. Consequently, my knees are stronger and I'm walking better and with more confidence. I haven't had the need for a cortisone shot in a year and a half. Occasionally, I would use a cane and it's now somewhere gathering dust. Also, I had a persistent headache that my primary physician had no solution for, and after two acupuncture treatments it's a thing of the past. Hot flashes were another issue that was treated successfully. I am so grateful to have found a knowledgeable and caring person to treat my ailments, many of which I thought would only grow worse as I aged. Generally, I feel healthier.
Summary
Reviewer
Review Date
Reviewed Item
Acupuncture effectively treat knee pain, insomnia, headache, hot flashes
Author Rating
Rita W
My husband Arthur and I have used Raleigh Acupuncture bi-weekly for at least 4 years, for a variety of treatments, including general well-being. Both of us felt our ailments healed with the treatment. I initially visited for Irritable Bowel Syndrome – and had immediate relief… the practitioners are very professional and learned, and we have every confidence in them. Even though we pay out of pocket, we obviously feel that the acupuncture is worth it. We both highly recommend Raleigh Acupuncture – you won't regret it!
Anya G
I have always had a nervous stomach.  Some people get headaches, I get stomach aches.  It's always worse with stress and eases up on the weekends when I can relax.  I did not think of getting treatment until I stumbled on an article saying how acupuncture was excellent for treating stomach pain.  I went to Raleigh Acupuncture and described my condition.  They explained why my stomach hurt.  It totally made sense to me.  It's all about internal balance.  So they went to work on me to get my stomach balanced.  And I'm pleased to say that it worked.  I no longer have a nervous stomach and stomach pain, even in stressful situations.  I've made some changes to my diet, based on their recommendations, and took chinese herbs for a while, but don't need to take them now.  I'm convinced that I would have lived with stomach pain for the rest of my life had it not been for acupuncture.
Polly B
I'm totally afraid of needles, but my wife convinced me to try acupuncture for my IBS.  It was really hampering my life.  I'd have to go to the bathroom 5 times before leaving for work.  Then at work I'd be sitting in a meeting and all of a sudden have to go again.  Any type of stress set me off.  At first they could only use 2 needles, that's all I would let them do.  But after a few treatments I started relaxing and felt more comfortable with the needles.  The effect has been amazing.  I'm so much better now.  Mornings are easy, no problems at work.  It's hard to believe, because I've had this for my entire adult life.  Now I just go in for maintenance and have some herbs I take when I need them.  Raleigh Acupuncture is a great outfit.
Samuel N
I came back from a trip to the Caribbean with a terrible case of vertigo and nausea.  I couldn't sleep, couldn't work, couldn't walk straight.  I had this throbbing headache all day long.  It was driving me crazy.  I tried acupuncture and in three sessions was completely cured!  I was so impressed that I had them treat my back pain next.  I only wish insurance covered the treatments.
Pat M
I was diagnosed with dizziness and put on a medicine that made me more dizzy!  My chiropractor said it was from my neck, but the adjustments didn't help.  So I tried acupuncture.  Every time I bent down I would get so dizzy that I fell over.  The doctor at Raleigh Acupuncture didn't treat my neck.  He said he was treating my organs to balance them and correct my water levels.  I don't care what he called it – it stopped my dizziness!  I can bend over now without dizziness and can function like a normal person.  They also got rid of my toe pain at the same time!
Jenn W
I had vertigo and dizziness for years.  I run my own small business and it was starting to really affect my work.  I had difficulty driving, and was starting to get nervous about getting into an accident at work.  My vertigo was like the room spinning around, and the only way to make it stop was to close my eyes and lie down.  I was also burning up hot, but never had a fever.  My cousin went to Raleigh Acupuncture so I gave it a try.  They treated me with little needles and gave me chinese herbs.  I'm not kidding, this stuff really works.  My vertigo stopped happening for the first time in years, and I even stopped feeling so hot.  I get small bouts of vertigo now and then, but usually just a single treatment gets me better. I also understand why I get vertigo and what I can do to prevent it coming on.  They were really good explaining how it worked, in a way that totally makes sense to me.  Thank you Raleigh Acupuncture.
Donna B
I suffered a serious concussion last year riding my mountain bike. After the accident I was getting severe headaches every day. They were so bad I couldn't drive. I found Raleigh Acupuncture online. I liked their website and they said they treated post-concussion headaches. They got rid of the headaches and helped me with a number of other post-concussion issues like blurred vision, anxiety and insomnia. They really understood what was going on with me. I'm very grateful.
David M
I've gotten migraine headaches for the past thirty years. They started as a teenager and have come once or twice a week since then. Pain medication used to work for the first ten or fifteen years, but since then nothing seemed to help. I mentioned to my doctor that I wanted to try Acupuncture and he recommended Raleigh Acupuncture. That was the best decision I've ever made. They not only cured my migraines, but got rid of a chronic neck pain at the same time. They gave me Chinese herbs as well, which I took for the eight weeks that I received acupuncture. They were highly professional, easy to talk to, and very informative. They explained everything they were doing and how it was working. Once the headaches stopped, I didn't have to continue the herbs. It's been two years and they have not returned. I go back for maintenance once a month. I'll happily do that forever, not having to deal with migraines any more. I recommend this practice to anyone suffering from migraines.
Phyllis G
My 14 year old daughter started getting migraines when her period started last year. They were aweful. A friend of mine suggested we try acupuncture. She went to Raleigh Acupuncture, so we made an appointment. The doctors there were so kind to my daughter. They made her feel safe and comfortable during the treatments. They cured her migraines in just eight treatments! She does not get them anymore. And her periods are so much easier than before. Thank you Raleigh Acupuncture! We are very grateful to you!
Tonya's Mom
Summary
Article Name
Vestibular Migraine Acupuncture Treatment - Raleigh Acupuncture
Description
The vestibular migraine acupuncture treatment is safe and natural. It addresses root issues and provides long-lasting relief.
Author
Publisher Name
Raleigh Acupuncture Associates
Publisher Logo