A research study* conducted in 2012 concluded that acupuncture was most effective in the treatment of bloating, medically known as dyspepsia. Dyspepsia involves disharmony with stomach and intestinal function. Symptoms include bloating, abdominal pain, an uncomfortable feeling of fullness after eating, nausea, belching and heartburn. This article will review the findings of the bloating acupuncture research study.
The Problem
Dyspepsia is associated with GERD, gastritis and ulcers. Western medicine most often treats dyspepsia with PPIs (proton pump inhibitors), a class of drugs known for the treatment of heartburn. However, long term use of PPIs is discouraged, as it is linked to gastric cell atrophy, which can lead to cancer.
Bloating Acupuncture Research Study
The study had 712 participants. They were randomly put into 3 groups. Group 1 received specific acupuncture points to treat bloating. Group 2 received sham (fake) acupuncture, which used non-acupuncture points. Group 3 was given itopride, a Western medicine commonly used in the treatment of dyspepsia.
Patients received 5 acupuncture treatments a week for 4 weeks, totaling 20 treatments. They were then monitored for the next 12 weeks to see how they did.
Results
Group 1, which received true acupuncture, had over a 70 percent success rate. Group 3, which received the medicine, improved 40 percent. The sham acupuncture group did the worse, improving 34 percent.
Conclusion
The researchers concluded, "Acupuncture is effective in the treatment of functional dyspepsia, and is superior to non-acupuncture. The benefit of acupuncture relies on acupoint specificity."
Next Steps
This bloating acupuncture research study corresponds with our own experience. Bloating, stomach pain, IBS and GERD all respond positively to acupuncture. In addition, results are long lasting.
BOOK NOW to schedule an appointment online.
WATCH VIDEO ABOUT OUR BLOATING TREATMENT.
LEARN ABOUT OTHER DIGESTIVE ISSUES WE TREAT.
*Randomized clinical trial: an assessment of acupuncture on specific meridian or specific acupoint vs. sham acupuncture for treating functional dyspepsia. Alimentary Pharmacology & Therapeutics (2012).
Summary
Article Name
Bloating Acupuncture Research Study - Raleigh Acupuncture
Description
Bloating acupuncture research study - Raleigh Acupuncture. 2012 study concluded that acupuncture worked better than medication to resolve bloating pain.
Author
Publisher Name
Raleigh Acupuncture Associates
Publisher Logo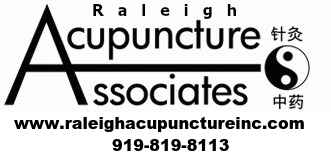 What our Clients are Saying
Thanks Mark for helping me to get rid of my gastritis! With you help and dedication I'm feeling so much better. Recommended!
Vivian A
I developed severe abdominal pain following the stomach flu. Three rounds of antibiotics did not help. Neither did an elimination diet. Raleigh Acupuncture got rid of the pain in six treatments! Acupuncture is amazing. And so are they.
Alan J
My acid reflux meds stopped working about three months ago and someone suggested acupuncture so I gave it a try. I couldn't eat anything without having burning pain from my stomach up into my chest. What a relief from the acupuncture! They totally cured my reflux. I've been living with this, just managing it with medications, when all the while I could have cured it with this. Absolutely amazing! I love Raleigh Acupuncture!!
Jessica N
My husband Arthur and I have used Raleigh Acupuncture bi-weekly for at least 4 years, for a variety of treatments, including general well-being. Both of us felt our ailments healed with the treatment. I initially visited for Irritable Bowel Syndrome – and had immediate relief… the practitioners are very professional and learned, and we have every confidence in them. Even though we pay out of pocket, we obviously feel that the acupuncture is worth it. We both highly recommend Raleigh Acupuncture – you won't regret it!
Anya G
I have always had a nervous stomach.  Some people get headaches, I get stomach aches.  It's always worse with stress and eases up on the weekends when I can relax.  I did not think of getting treatment until I stumbled on an article saying how acupuncture was excellent for treating stomach pain.  I went to Raleigh Acupuncture and described my condition.  They explained why my stomach hurt.  It totally made sense to me.  It's all about internal balance.  So they went to work on me to get my stomach balanced.  And I'm pleased to say that it worked.  I no longer have a nervous stomach and stomach pain, even in stressful situations.  I've made some changes to my diet, based on their recommendations, and took chinese herbs for a while, but don't need to take them now.  I'm convinced that I would have lived with stomach pain for the rest of my life had it not been for acupuncture.
Polly B
I'm totally afraid of needles, but my wife convinced me to try acupuncture for my IBS.  It was really hampering my life.  I'd have to go to the bathroom 5 times before leaving for work.  Then at work I'd be sitting in a meeting and all of a sudden have to go again.  Any type of stress set me off.  At first they could only use 2 needles, that's all I would let them do.  But after a few treatments I started relaxing and felt more comfortable with the needles.  The effect has been amazing.  I'm so much better now.  Mornings are easy, no problems at work.  It's hard to believe, because I've had this for my entire adult life.  Now I just go in for maintenance and have some herbs I take when I need them.  Raleigh Acupuncture is a great outfit.
Samuel N
Summary
Article Name
Bloating Acupuncture Research Study - Raleigh Acupuncture
Description
Bloating acupuncture research study - Raleigh Acupuncture. 2012 study concluded that acupuncture worked better than medication to resolve bloating pain.
Author
Publisher Name
Raleigh Acupuncture Associates
Publisher Logo