The Research
New research* published in the European Journal of Integrative Medicine finds that acupuncture has a powerful effect on resolving infertility. The study evaluated patients using IVF, IUI and those trying to get pregnant on their own. This research shows acupuncture improves infertility outcomes in all three groups.
The Mechanism
The study sited that acupuncture triggers the release of endorphins and neurotransmitters in the body that cause an increase in hormone GnRH (gonadotropin-releasing hormone). This hormone regulates the menstrual cycle and ovulation. In addition, they found that acupuncture enhances blood circulation in the uterus by inhibiting excess sympathetic nerve activity in the uterus. This research is consistent with another study that found acupuncture improved IVF outcomes.**
The Numbers
The success rate for IVF as a standalone therapy is currently 24% (for 4 or more embryos transferred). Adding acupuncture to IVF boosts the success rate to 42.5%. The study concludes that acupuncture is a safe and cost effective way to help women seeking fertility treatment.
In addition, 52.4% of women in the study got pregnant with acupuncture and/or herbal medicine alone (without Western medical intervention). 9.5% conceived with acupuncture plus IVF (in vitro fertilization) and 4.8% with acupuncture plus IUI (intrauterine insemination).
Most women got pregnant in the first 12 months of the 2-year study. Several women did not complete the full course of the trial. The study's success rate may have been higher if all participants completed the full treatment regime. 85.7% of the women had primary infertility and 14.3% had secondary infertility. No adverse side effects were reported during the course of the study.
The Participants
Study participants were required to be between 21 and 45 years old. They had to be married with no success getting pregnant during the past 12 months. They could not smoke or drink alcohol. The husbands had to have healthy sperm (based on sperm analysis).
The Treatment
Acupuncture was received 2 to 3 times a week. The acupuncture needles were sterile and single-use. Qi was stimulated at each point and needles were retained for 25 minutes.
The acupuncture points were selected based on the Chinese medicine diagnosis of each patient. This is called TCM (Traditional Chinese Medicine) differential diagnosis. For example, if a patient presented with Liver Qi Stagnation she received acupuncture points that specifically resolve that imbalance. On the other had, if she presented primarily with Blood Stasis, other points were used. This is a superior way to treat, and all acupuncture research should follow this approach.
The Outcome
Based on the extraordinary results obtained in this study, the researchers concluded, "Acupuncture shows promising success in treating female infertility as compared with IVF (in vitro fertilization) alone without acupuncture." They also stated that acupuncture shows a "positive effect" on treating several different types of female infertility.
Our Experience at Raleigh Acupuncture
We have been treating women for infertility for 15 years. Our experience agrees with the outcomes in this study. Acupuncture works! It is effective as a stand-alone therapy, and also boosts success rates for women undergoing IVF and IUI. It is safe, natural and has no negative side effects.
Next Steps
BOOK NOW to schedule an appointment online. Or call us at 919-819-8113 and we will schedule one for you. Research shows acupuncture improves infertility outcomes. It's available to you today.
WATCH VIDEO describing our treatment.
To learn more about our infertility treatment click RALEIGH ACUPUNCTURE INFERTILITY TREATMENT.
For information about all the women's health issues we treat click WOMEN'S HEALTH ISSUES WE TREAT.
Resources: Research Shows Acupuncture Improves Infertility Outcomes
*Chui, Shiu Hon, Fung Chun Chow, Yim Tong Szeto, Kelvin Chan, and ChristopherWK Lam. "A Case Series on Acupuncture Treatment for Female Infertility with some cases supplemented with Chinese Medicines." European Journal of Integrative Medicine (2014).
**Fan Qu, Jue Zhou, Mark Bovcey, Giovanna Franconi, Kelvin Chan, Caroline Smith et al. Does acupuncture improve the outcome of in vitro fertilization? Guidance for future trials. European Journal of Integrative Medicine 2012; 4(3): e234 – e244.
Summary
Article Name
Research Shows Acupuncture Improves Infertility Outcomes
Description
Research shows acupuncture improves infertility outcomes. Safe, natural, powerful effect from acupuncture to promote fertility.
Author
Publisher Name
Raleigh Acupuncture Associates
Publisher Logo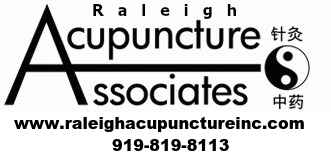 What our Clients are Saying
I was scheduled for IVF and they suggested I get acupuncture beforehand to increase my chances of success.  I went to Raleigh Acupuncture for a month before the procedure.  It was very relaxing and definitely reduced my stress levels.  My uterine lining also increased more than ever before.  The IVF was a success and I'm now pregnant.  It was definitely worth doing the acupuncture.  I did not want to have to repeat IVF for $25K a pop.  And when I got morning sickness, they cured that too!
Maria T
I sought Raleigh Acupuncture's help in 2010 following a miscarriage. Happily, in 2011, I had a very healthy little boy. My son is 11 months old. I tell everyone how much you got me back on track after my miscarriage – it was truly amazing. I had a great pregnancy too.
Jen D
My husband and I had been trying to get pregnant for the past two years.  I had undergone three rounds of Clomid with no success and the doctor was talking about IVF.  We didn't have the money for that, so we tried acupuncture.  They took a lot of time to explain what they were doing with the acupuncture and Chinese herbs.  I learned so much about my cycle and the reasons I was having trouble getting pregnant.  They said it would take 3 to 6 months to get pregnant, and sure enough, after 3 months I was pregnant!  It seems like a miracle to me.  I'm so grateful to Raleigh Acupuncture.  Thank you!!!
Sonya B
Summary
Article Name
Research Shows Acupuncture Improves Infertility Outcomes
Description
Research shows acupuncture improves infertility outcomes. Safe, natural, powerful effect from acupuncture to promote fertility.
Author
Publisher Name
Raleigh Acupuncture Associates
Publisher Logo