If you are getting chemotherapy for cancer treatment, chances are you're dealing with side effects. The Raleigh Acupuncture chemo side effects treatment can help. It reduces nausea, boosts energy, and rebuilds depleted blood cells. Read on to learn more about this powerful treatment.
Raleigh Acupuncture Chemo Side Effects Treatment
Watch video to learn more.

The Problem
Chemotherapy saves hundreds of thousands of lives each year. But it can be tough on the body. Common side effects include fatigue, bruising and bleeding, infection, anemia, nausea and vomiting, appetite changes, constipation and diarrhea, mouth, tongue, throat problems, numbness, tingling and pain, urinary issues, concentration, mood changes, and sexual function issues.
The Solution
The Raleigh Acupuncture chemo side effects treatment resolves these debilitating symptoms safely and naturally. However, to understand how it works, it is helpful to know how chemo causes them in the first place. Chemotherapy medications create disharmony in the body due to their toxicity. This disharmony manifests as the typical symptoms listed above.
Acupuncture restores balance in the body. And when it does, these symptoms naturally resolve. For example, chemo drugs cause nausea. That's because they damage the stomach. Stomach energy (called Stomach Qi) should have a downward movement. Foods naturally descend from the stomach to the intestines. The damage caused by chemo reverses this natural flow and forces the stomach Qi to rise. We call this Rebellious Stomach Qi, and it manifests as nausea.
By harmonizing and strengthening the stomach, acupuncture restores its natural downward flow, resolving nausea in the process. Each of the symptoms listed above associated with chemotherapy has its particular development path. When you come for acupuncture, we identify the imbalances and create a comprehensive treatment plan to address them. The result will be that you feel much better.
What To Expect
Acupuncture is safe and relaxing, with no adverse side effects. All needles are sterile, single-use, hair-thin needles. As a result, many of our patients fall asleep during their sessions.
Next Steps
If you are struggling with side effects from chemotherapy, try the Raleigh Acupuncture chemo side effects treatment.
BOOK NOW to schedule an appointment online.
Meet The Practitioners (Video).
Learn about all the conditions we treat.
Chemotherapy Acupuncture Resources
Chemo Side Effects Acupuncture Research.
Chemo Side Effects Acupuncture Case Study.
First Cancer Pain Acupuncture Research Study.
Second Cancer Pain Acupuncture Research Study.
Summary
Article Name
Chemotherapy Side Effects Reduced at Raleigh Acupuncture
Description
Chemotherapy side effects reduced at Raleigh Acupuncture. Nausea, vomiting, fatigue, anemia and bowel issues resolved naturally.
Author
Publisher Name
Raleigh Acupuncture Associates
Publisher Logo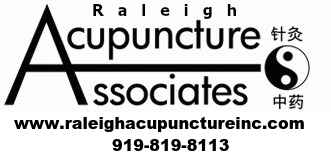 What our Clients are Saying
I developed severe nausea during my chemotherapy treatments. Raleigh Acupuncture really helped. With each round of treatment I went for a few acupuncture treatments and each time they helped. I got through my cancer treatment easier with their help.
Charles Z
My first pregnancy went so easy.  So I was surprised when I got so nauseous with my second one.  Every smell made me sick and I didn't want to eat anything.  My mom found Raleigh Acupuncture.  The practitioner told me it generally took 3 to 6 treatments to stop the nausea.  She was right.  After 6 treatments I wasn't nauseous anymore and could eat again without trouble.  I'm very pleased and would recommend them to any pregnant woman suffering from nausea.
Kimberly M
When I was pregnant 6 weeks I got terrible nausea and vomiting.  I could not hold anything down.  I started losing weight after two weeks and my doctor put me on medications.  But I was still vomiting every day and felt awful.  I found Raleigh Acupuncture and they treated me three times.  It totally stopped the nausea and vomiting.  I stopped my medications, and the rest of my pregnancy had no problems.  They said this was an easy thing to treat.  I wish I had known about it from the beginning of my pregnancy.
Clarissa T
About six months ago I starting getting debilitating fatigue, to the point where I could not exercise and had to drag myself through the day at work.  The doctors said it must be stress, because there was nothing wrong with me.  But when I went to Raleigh Acupuncture, they said that my digestion was weak.  They said I was not getting proper energy from the food I was eating, so they treated my digestive system.  I was amazed to see my energy increase after the treatments.  Within 10 treatments I was back to my old self, exercising again and working through the day no problem.  And as a side benefit, I started losing weight.  They said this was related to my improved digestive function.  Now my friends want to go because they see my energy back and see me losing weight!
Hilary D
I am a long term patient of Raleigh Acupuncture. Prior to being under their care, I was disabled with terrible fatigue and pain all over my body. I was unable to drive, could only walk less than a block, and had numerous symptoms that mystified doctors. After countless lab work, x-rays, and MRI's, several doctors including my primary physician told me that there was nothing that could be done. According to them, it was either an illness that was undiagnosable or it was all in my head. When I came to Raleigh Acupuncture, it was a breath of fresh air. They took me very seriously and were not mystified by my condition. They assured me that my condition was treatable and manageable. They treat me with respect, dignity and care; something that I didn't receive at my primary care doctor. Thanks to their treatments I am now living a normal life. They have restored my health and taught me how to manage my condition. My family and friends can't believe how much improvement I have made. My son is grateful to have his mommy back! And I am eternally grateful to Raleigh Acupuncture! They truly have the gift of healing!
Rossina C
I came back from a trip to the Caribbean with a terrible case of vertigo and nausea.  I couldn't sleep, couldn't work, couldn't walk straight.  I had this throbbing headache all day long.  It was driving me crazy.  I tried acupuncture and in three sessions was completely cured!  I was so impressed that I had them treat my back pain next.  I only wish insurance covered the treatments.
Pat M
I still am forever in your debt for helping me through the Lymes recovery. My body pain and fatigue were overwhelming before getting acupuncture. I still tell everyone today that I am 100% positive that my recovery was a direct result of your expert care. Truly. I have very little residual effects from the disease that I can easily live with. So again,thank you not only for your amazing skills, but for the compassion and kindness that you showed me during that time.
Carol F
Summary
Article Name
Chemotherapy Side Effects Reduced at Raleigh Acupuncture
Description
Chemotherapy side effects reduced at Raleigh Acupuncture. Nausea, vomiting, fatigue, anemia and bowel issues resolved naturally.
Author
Publisher Name
Raleigh Acupuncture Associates
Publisher Logo