This dizziness vertigo acupuncture research study explored the safely and effectiveness of acupuncture for emergency room patients. Results showed that acupuncture provided significant therapeutic effect for patients suffering from dizziness and vertigo.
Outcome Measures
Three subjective and objective measurement tools were used to track outcomes. These included HRV (heart rate variability), the Dizziness Handicap Inventory (DHI), and the Visual Analog Scale (VAS).
Goal Of Study
The dizziness vertigo acupuncture researchers noted that while acupuncture has been effectively treating these conditions for over a thousand years, little research has been done on the subject. The goal of the study was to assess the safety and benefits of acupuncture for the treatment of dizziness and vertigo with emergency room patients.
Study Participants
Study participants were drawn from the emergency room at Changhua Christian Hospital in Taiwan. Patients were screened beforehand by an otolaryngologist and a neurologist to validate their presenting symptoms. Patients were included in the study if they presented with dizziness, vertigo, vertebrobasilar artery syndrome, Ménière's disease or vestibular neuritis.
Acupuncture Treatment
The patients were divided into two groups, acupuncture and control. The acupuncture group received acupuncture points ST36 (Zusanli) and PC6 (Neiguan) using sterile, single-use acupuncture needles. Points were manually stimulated and obtained the de qi sensation. This is when the needle feels slightly achy.
It indicates that Qi (pronounced Chi) has been activated.
Needles were retained for 30 minutes during each acupuncture treatment. The control group received sham (fake) acupuncture. This involved applying seed patches to locations 1 inch away from true acupuncture points.
Findings
This dizziness vertigo acupuncture research study demonstrated that acupuncture reduced discomfort and VAS scores for dizziness and vertigo. The researchers stated, "the study provided clinical evidence on the efficacy and safety of acupuncture to treat dizziness and vertigo in (the) emergency department."
Power Of The Point
The two acupuncture points used in the study have powerful healing effect for dizziness and vertigo. PC6 is used in the treatment of nausea, vomiting, swollen and painful throat, epilepsy, painful ribs and chest, palpitations, and asthma. PC6 is located 2 inches above the wrist on the inside of the arm. It calms the heart, pacifies the spirit, regulates qi, and suppresses pain.
ST36 is 3 inches below knee on the outside of the leg. It is used to treat many conditions including dizziness, vertigo, stomach pain, ulcers, abdominal bloating, constipation, dyspepsia, and hypertension.
What To Expect
This dizziness vertigo acupuncture research study supports our own experience treating these conditions. We have been successfully helping dizziness and vertigo patients heal for years. We use the two points described in the study, as well as other points. Each patient presents with slightly different root imbalances. Acupuncture provides custom treatment to address their individual needs.
As with this study, we use sterile, single-use, hair thin needles. You will hardly feel them. Treatments are very relaxing. Many of our patients fall asleep during their sessions.
Next Steps
If you are struggling with dizziness or vertigo, try acupuncture.
BOOK NOW to schedule an appointment online.
WATCH VIDEO ABOUT OUR DIZZINESS & VERTIGO TREATMENT.
LEARN ABOUT OTHER HEAD & SENSORY CONDITIONS WE TREAT.
Dizziness Vertigo Acupunture Research
This research study provided strong data supporting the benefits of acupuncture in the treatments of dizziness and vertigo.
References
Chiu, Chih-Wen, Tsung-Chieh Lee, Po-Chi Hsu, Chia-Yun Chen, Shun-Chang Chang, John Y. Chiang, and Lun-Chien Lo. "Efficacy and safety of acupuncture for dizziness and vertigo in emergency department: a pilot cohort study." BMC complementary and alternative medicine 15, no. 1 (2015): 173.
Summary
Article Name
Dizziness Vertigo Acupuncture Research - Raleigh Acupuncture
Description
Dizziness vertigo acupuncture research - Raleigh Acupuncture. Study found acupuncture brings immediate relief from dizziness and vertigo.
Author
Mark Molinoff, M.A.O.M., Diplomate in Oriental Medicine
Publisher Name
Raleigh Acupuncture Associates
Publisher Logo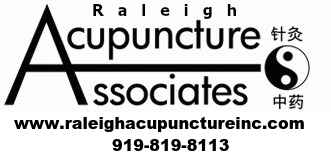 What our Clients are Saying
I came back from a trip to the Caribbean with a terrible case of vertigo and nausea.  I couldn't sleep, couldn't work, couldn't walk straight.  I had this throbbing headache all day long.  It was driving me crazy.  I tried acupuncture and in three sessions was completely cured!  I was so impressed that I had them treat my back pain next.  I only wish insurance covered the treatments.
Pat M
I was diagnosed with dizziness and put on a medicine that made me more dizzy!  My chiropractor said it was from my neck, but the adjustments didn't help.  So I tried acupuncture.  Every time I bent down I would get so dizzy that I fell over.  The doctor at Raleigh Acupuncture didn't treat my neck.  He said he was treating my organs to balance them and correct my water levels.  I don't care what he called it – it stopped my dizziness!  I can bend over now without dizziness and can function like a normal person.  They also got rid of my toe pain at the same time!
Jenn W
I had vertigo and dizziness for years.  I run my own small business and it was starting to really affect my work.  I had difficulty driving, and was starting to get nervous about getting into an accident at work.  My vertigo was like the room spinning around, and the only way to make it stop was to close my eyes and lie down.  I was also burning up hot, but never had a fever.  My cousin went to Raleigh Acupuncture so I gave it a try.  They treated me with little needles and gave me chinese herbs.  I'm not kidding, this stuff really works.  My vertigo stopped happening for the first time in years, and I even stopped feeling so hot.  I get small bouts of vertigo now and then, but usually just a single treatment gets me better. I also understand why I get vertigo and what I can do to prevent it coming on.  They were really good explaining how it worked, in a way that totally makes sense to me.  Thank you Raleigh Acupuncture.
Donna B
Summary
Article Name
Dizziness Vertigo Acupuncture Research - Raleigh Acupuncture
Description
Dizziness vertigo acupuncture research - Raleigh Acupuncture. Study found acupuncture brings immediate relief from dizziness and vertigo.
Author
Mark Molinoff, M.A.O.M., Diplomate in Oriental Medicine
Publisher Name
Raleigh Acupuncture Associates
Publisher Logo